Description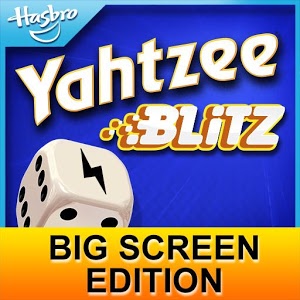 YAHTZEE BLITZ: BIG SCREEN EDITION
PLEASE NOTE: The game was designed with features for use with CHROMECAST! A Chromecast device is required to play YAHTZEE Blitz!
Roll out the Chromecast and get ready to out count, out score and out fun your family – YAHTZEE Blitz: Big Screen Edition app has arrived on your TV screen! Play the new Blitz Mode, which gives the roller and other players special powers to do things like freeze an opponent's die! Then you can roll out the dice and rack up the points – it's time for the fun to begin and bragging to follow! Download the YAHTZEE Blitz: Big Screen Edition app today and try it for free! Pay once to unlock unlimited play!
PLAY ON THE BIG SCREEN WITH CHROMECAST
• Connect to your TV with a Chromecast device and use your smartphone or tablet to control the action!
• Chromecast device & internet connection required for Play on TV mode.
• Each player must have the YAHTZEE Blitz: Big Screen Edition app installed on his or her device.
EVERYTHING YOU ALREADY LOVE ABOUT YAHTZEE COMES TO YOUR TV
• Shoot the dice like a pro, score classic combos and rely on luck and strategy.
• New BLITZ mode! We've updated the classic YAHTZEE game to give players special powers in Blitz Mode, where everything happens faster. Try to keep up and avoid your opponents' special moves in the race to get the highest score.
o Every player starts with 3 offensive powers like Power Roll to go strong on the offensive by using 10 dice instead of 5.
o Or use your 3 defensive powers when you're feeling the pressure like Freeze a Die to freeze an opponent's die, preventing them from rerolling it.
Chromecast is a trademark of Google Inc.
YAHTZEE is a trademark of Hasbro. ©2015 Hasbro. All Rights Reserved.
SPONSORED

———————————————————————-
Privacy Policy:
What Information May Be Collected
– Technical (Device ID, IP address, ad tags, etc.)
Why It's Collected
– Internal operations
– In-app advertising
– In-app purchase
With Whom It's Shared
– Internal operations' service providers
———————————————————————-
Screenshots
Permission
Version 1.0.0 can access:
find accounts on the device
find accounts on the device
read phone status and identity
modify or delete the contents of your USB storage
read the contents of your USB storage
modify or delete the contents of your USB storage
read the contents of your USB storage
read phone status and identity
receive data from Internet
view network connections
connect and disconnect from Wi-Fi
full network access
control vibration
use accounts on the device
Size: 33 MB
Version:1.0.0
SPONSORED