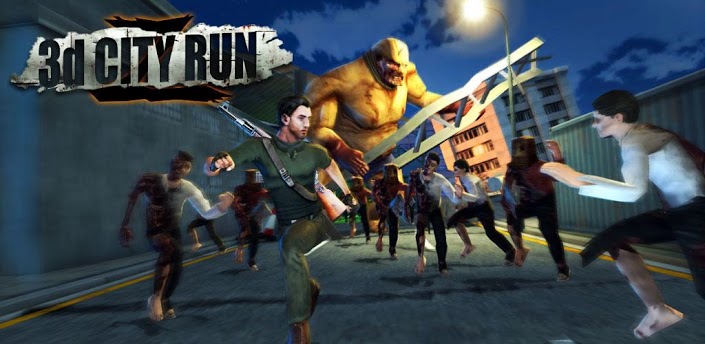 Description
The 3D City Run 2 is a sequel to highly successful 3D City Runner game that managed to get 5 million downloads. The 3D City Run 2 is developed by same games studio as its predecessor, Jelly.K development studio, and is using even more advanced 3D technology in order to offer more immersive and visually stunning game experience.In 3D City Run 2, you will be put into the role of Leon, the adventurer. Leon's objective is to survive and run for his life in the streets and sewers of the city that has been hit and destroyed by unknown apocalypse. During the game you have keep clear of unexpected explosions and obstacles in the city, while defending yourself and running away from horde of zombies who occupy the streets and sewers of the city. This makes the game very challenging and great fun to play.
The only way for Leon to survive is to constantly run away and to eliminate anything that stands in his way (abandoned cars, blood-thirsty zombies, other obstacles), with range of weapons that can be found in the different parts of the city.So get ready for the run of your life!
* Realistic and immersive game environment with great * sound effects.
* Ability to upgrade your weapons.
* Fast-paced, innovative and challenging game-play.
* Dynamically generated game stages make it extra fun
How to play? Simple!
* Navigate through using tilt controls
* Swipe up to jump over barriers
* Swipe down to duck under objects
* Aim at enemy and shoot automatically
* Tap screen to reload bullet
******3D Ctiy Run 2******
Recommended you strongly,What are you waiting for? Download now to experience the fun.
Jelly.K studio:
Don't be stingy with your review. Give us feedback so we can make it better! Thanks!
App Screenshots
Videos
SPONSORED

Permissions
THIS APPLICATION HAS ACCESS TO THE FOLLOWING:
NETWORK COMMUNICATION

FULL NETWORK ACCESS

Allows the app to create network sockets and use custom network protocols. The browser and other applications provide means to send data to the internet, so this permission is not required to send data to the internet.

PHONE CALLS

READ PHONE STATUS AND IDENTITY

Allows the app to access the phone features of the device. This permission allows the app to determine the phone number and device IDs, whether a call is active, and the remote number connected by a call.

STORAGE

MODIFY OR DELETE THE CONTENTS OF YOUR USB STORAGE

Allows the app to write to the USB storage.

YOUR APPLICATIONS INFORMATION

RETRIEVE RUNNING APPS

Allows the app to retrieve information about currently and recently running tasks. This may allow the app to discover information about which applications are used on the device.
YOUR ACCOUNTS

FIND ACCOUNTS ON THE DEVICE

Allows the app to get the list of accounts known by the device. This may include any accounts created by applications you have installed.

NETWORK COMMUNICATION

VIEW NETWORK CONNECTIONS

Allows the app to view information about network connections such as which networks exist and are connected.

VIEW WI-FI CONNECTIONS

Allows the app to view information about Wi-Fi networking, such as whether Wi-Fi is enabled and name of connected Wi-Fi devices.

SYSTEM TOOLS

ACCESS USB STORAGE FILESYSTEM

Allows the app to mount and unmount filesystems for removable storage.

TEST ACCESS TO PROTECTED STORAGE

Allows the app to test a permission for USB storage that will be available on future devices.

AFFECTS BATTERY

CONTROL VIBRATION

Allows the app to control the vibrator.
VERSION:1.2
SIZE:25M
SPONSORED