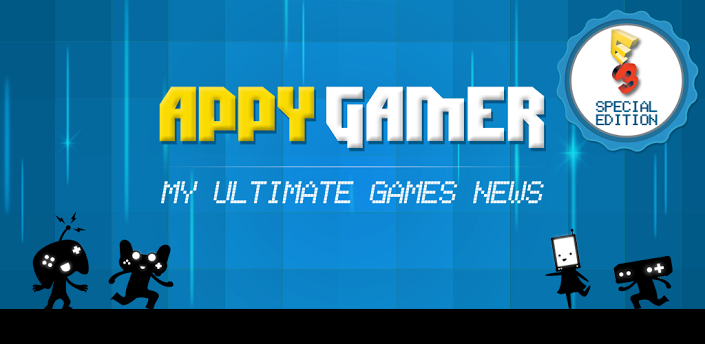 Description
Follow all the announcements from E3 as they happen with the Appy Gamer E3 2013 Special Edition!Appy Gamer delivers all the games news you will ever need in a sleek and fully customizable app. Never before has such a comprehensive set of games news sources been assembled into such a handy little package. It doesn't matter what your platform of choice is, or which games push your buttons – Appy Gamer has got your craving for gaming news covered.Appy Gamer lets you become your own news editor. Build your own gaming news channels and be alerted – in real time – on the stuff that interests you the most. Whether you want to know about PS3 or Xbox, FPS or RPG, Nintendo or PC, World of Warcraft or Diablo, this app is perfect for you. Follow the platforms and games you care about and get the latest reviews straight away so you are always the first to know what's hot and what's not.
Appy Gamer explores and organises hundreds of articles into a cleverly laid-out user interface from over 25 leading games news sources, including CVG, Eurogamer, Slide To Play, T3, Edge, PC Gamer and much more… Full articles, photos and videos are delivered directly to your device so you never miss a thing. Set custom alerts so you are always up to date when a new story about your favourite game breaks.
Get the latest news, opinions and views on video games from all platforms including PC, Playstation, Xbox 360, Nintendo and more. Whether you are a fan of Call Of Duty, GTA, Mario, Angry Birds, World Of Warcraft or any other games, there is something here for you.
★ Tip > Create your own news channels on the topics of your choice, and explore the news through the TagNav™, an innovative navigation system to browse the news. Get a complete overview on any topic!
★ An edition just for you > Appy Gamer is available in 8 regional editions – US, UK, Germany, Italy, France, Spain, LatAm and International, so you can always find the news that speaks to you!
_ _ _ _ _ _ _ _ _
MAIN FEATURES:
SPONSORED

★ PERSONALIZE
Create your own channels and follow only the topics that matter to you.
★ EXPLORE
Browse the news through the innovative TagNav™ explorer.
★ GET ALERTED
Set custom alerts on your favorite topics and never miss important news.
★ SHARE
Read any article and share it with friends by email, Twitter or Facebook.
★ REACT
Express your mood on any topic and read the articles with the most reactions.
★ EXTEND
Find out more about the article you just read from a selection of top online resources.
App Screenshots
What's New
What's in this version:
Follow all the announcements from E3 as they happen with the Appy Gamer E3 2013 Special Edition!
– Multi-device Topics Synchronization: If you have Appy Gamer installed on different devices (Android, iOS), you can now synchronize your homescreen topics using your Appy Gamer account.
– Multi-languages Top Stories: Follow Top Stories from other editions: US, UK, Italy, France, Germany, Spain.
– Bug fixes : Various bug fixes.
Permissions
THIS APPLICATION HAS ACCESS TO THE FOLLOWING:
YOUR LOCATION

APPROXIMATE LOCATION (NETWORK-BASED)

Allows the app to get your approximate location. This location is derived by location services using network location sources such as cell towers and Wi-Fi. These location services must be turned on and available to your device for the app to use them. Apps may use this to determine approximately where you are.

NETWORK COMMUNICATION

FULL NETWORK ACCESS

Allows the app to create network sockets and use custom network protocols. The browser and other applications provide means to send data to the internet, so this permission is not required to send data to the internet.

CONTROL NEAR FIELD COMMUNICATION

Allows the app to communicate with Near Field Communication (NFC) tags, cards, and readers.

PHONE CALLS

READ PHONE STATUS AND IDENTITY

Allows the app to access the phone features of the device. This permission allows the app to determine the phone number and device IDs, whether a call is active, and the remote number connected by a call.

STORAGE

MODIFY OR DELETE THE CONTENTS OF YOUR USB STORAGE

Allows the app to write to the USB storage.
NETWORK COMMUNICATION

VIEW NETWORK CONNECTIONS

Allows the app to view information about network connections such as which networks exist and are connected.

VIEW WI-FI CONNECTIONS

Allows the app to view information about Wi-Fi networking, such as whether Wi-Fi is enabled and name of connected Wi-Fi devices.

SYSTEM TOOLS

TEST ACCESS TO PROTECTED STORAGE

Allows the app to test a permission for USB storage that will be available on future devices.

YOUR APPLICATIONS INFORMATION

RUN AT STARTUP

Allows the app to have itself started as soon as the system has finished booting. This can make it take longer to start the device and allow the app to slow down the overall device by always running.

WALLPAPER

SET WALLPAPER

Allows the app to set the system wallpaper.
VERSION:2.4.0
SIZE:2.4M
SPONSORED