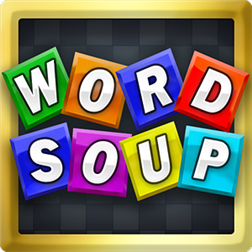 Description
The classic UK coin-op word puzzler – for your Windows Phone!
– Rated: 4.5/5 – The Sun (Britain's Most Popular Newspaper)
– Rated: 4/5 – AndroidTapp.com
Word Soup is a tactical word-search. Create words within the grid of scrambled letters. Words are removed from the grid and the letters above fall into the gaps. Strategic play brings letters into play that can be used to create longer words.
Tilting your device slides the grid and creates even more word making possibilities!
Word Soup features 3 Single-Player Game Modes:
– Relaxed: For a stress-free challenge.
– Timed: Test yourself against the clock.
– Brain Game: Endurance game where long words mean survival.
and 2 Two-Player Games Modes:
– Tit for Tat: Take turns making the best word
– It's Blitz: One grid, 90-seconds. Who's best?
SPONSORED

Local highscore tables track Longest Word, Best Word, Highest Score and even more stats besides.
The starting grid is randomly generated, so no two games should ever be the same.
Feed your brain with Word Soup!
Screenshots
Info
Download size
23 MB
App requires
phone identity
owner identity
video and still capture
location services
media playback
microphone
data services
movement and directional sensor
HD720P (720×1280)
WVGA (480×800)
WXGA (768×1280)
SPONSORED