Blurb Story Album Checkout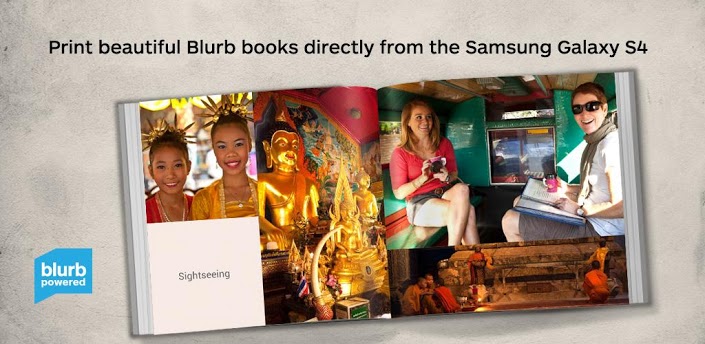 Description
Blurb Story Album Checkout lets you turn your Story Album into a print book.
Blurb Story Album Checkout for Samsung's Story Album photo app for the Galaxy S4 allows users across 75 countries to order and print their own professional-quality print photo books from their Galaxy S4 camera images, instantly.
SPONSORED

This app lets you:
• Order your book and process your transaction by credit card.
• Set billing and shipping information.
• Get a book starting at just USD $8.95 for a 20-page softcover 5 x 5-inch book – or choose a 7 x 7-inch (18 x 18-cm) hardcover or softcover book.
• Order in seven different currencies worldwide.
• Get your book delivered in just 7 to 14 days (in most locations).
Create a beautiful book from your phone, in real-time, while you're in the moment, doing the things you do. You're already documenting your life with your camera phone – now with the Blurb Story Album Checkout and the BlurbPowered™ Story Album app, you can go further and create a book that turns the moment into a permanent, tangible and beautiful object – for sharing, gifting, or just remembering down the road.
App Screenshots
Permissions
THIS APPLICATION HAS ACCESS TO THE FOLLOWING:
NETWORK COMMUNICATION

FULL NETWORK ACCESS

Allows the app to create network sockets and use custom network protocols. The browser and other applications provide means to send data to the internet, so this permission is not required to send data to the internet.

PHONE CALLS

READ PHONE STATUS AND IDENTITY

Allows the app to access the phone features of the device. This permission allows the app to determine the phone number and device IDs, whether a call is active, and the remote number connected by a call.

STORAGE

MODIFY OR DELETE THE CONTENTS OF YOUR USB STORAGE

Allows the app to write to the USB storage.
DEVELOPMENT TOOLS

CHANGE SYSTEM DISPLAY SETTINGS

Allows the app to change the current configuration, such as the locale or overall font size.

NETWORK COMMUNICATION

VIEW NETWORK CONNECTIONS

Allows the app to view information about network connections such as which networks exist and are connected.

CHANGE NETWORK CONNECTIVITY

Allows the app to change the state of network connectivity.

SYSTEM TOOLS

ACCESS USB STORAGE FILESYSTEM

Allows the app to mount and unmount filesystems for removable storage.

TEST ACCESS TO PROTECTED STORAGE

Allows the app to test a permission for USB storage that will be available on future devices.

YOUR APPLICATIONS INFORMATION

RUN AT STARTUP

Allows the app to have itself started as soon as the system has finished booting. This can make it take longer to start the device and allow the app to slow down the overall device by always running.
VERSION:1.0
SIZE:446k
SPONSORED