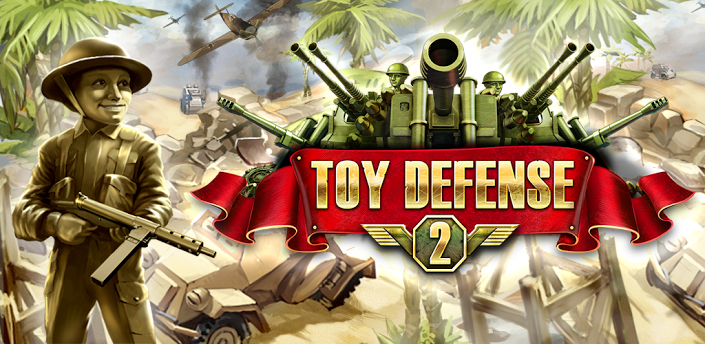 Description
Toy Defense 2 is the long-awaited sequel to the multi-million-download hit Toy Defense! Set in WW2, this action/strategy game is packed with more levels, amazing new features, a big selection of fighting units for each world, and more intense action than ever.Take part in various missions in a range of theaters of war, from the picturesque beaches and forests of Normandy to the deserts of northern Africa. The most epic battles of WW2 await you!
Recruit, upgrade, and manage your troops to create your own powerful army! Defend your base, fight off invading enemies, and develop your own winning strategy!
GAME FEATURES:
– Classic tower defense gameplay with excellent level design and stunning artwork
– 18 levels of action-packed gameplay across 3 worlds
– Masterful reconstruction of the most decisive battles of WW2 – Operation Crusader, the Battle of Stalingrad, and Operation Overlord
– A set of unique combat units for each world inspired by real weapons and vehicles used in WW2
– Unlockable upgrade tree with multiple improvements for each unit
– New amazing power-ups to aid you in battle
– Unlimited potential for collecting hero units
– A brand new in-game notification center to keep you up to date with special offers, game events, upcoming updates, and much more
With Toy Defense's unique spin on military strategy having become a proven success among gamers, the sequel Toy Defense 2 is sure to be a great find for anyone who enjoys tower defense, action, and strategy games.
SPONSORED

———————————————-
Get the full version to enjoy the game with more levels, more challenges, and more fun!
http://play.google.com/store/apps/details?id=com.melesta.toydefense2
———————————————-
Regular content updates with amazing new features, new missions, and new worlds coming soon! Follow us for updates!
Make sure to check out our other games!
TOY DEFENSE – Test your courage and skills as a military leader at the peak of World War I!
http://play.google.com/store/apps/details?id=com.melesta.toydefense
App Screenshots
Videos
Permissions
THIS APPLICATION HAS ACCESS TO THE FOLLOWING:
NETWORK COMMUNICATION

FULL NETWORK ACCESS

Allows the app to create network sockets and use custom network protocols. The browser and other applications provide means to send data to the internet, so this permission is not required to send data to the internet.

PHONE CALLS

READ PHONE STATUS AND IDENTITY

Allows the app to access the phone features of the device. This permission allows the app to determine the phone number and device IDs, whether a call is active, and the remote number connected by a call.

STORAGE

MODIFY OR DELETE THE CONTENTS OF YOUR USB STORAGE

Allows the app to write to the USB storage.
YOUR ACCOUNTS

FIND ACCOUNTS ON THE DEVICE

Allows the app to get the list of accounts known by the device. This may include any accounts created by applications you have installed.

NETWORK COMMUNICATION

GOOGLE PLAY LICENSE CHECK

Google Play license check

VIEW NETWORK CONNECTIONS

Allows the app to view information about network connections such as which networks exist and are connected.

VIEW WI-FI CONNECTIONS

Allows the app to view information about Wi-Fi networking, such as whether Wi-Fi is enabled and name of connected Wi-Fi devices.

RECEIVE DATA FROM INTERNET

Allows apps to accept cloud to device messages sent by the app's service. Using this service will incur data usage. Malicious apps could cause excess data usage.

SYSTEM TOOLS

TEST ACCESS TO PROTECTED STORAGE

Allows the app to test a permission for USB storage that will be available on future devices.

AFFECTS BATTERY

PREVENT DEVICE FROM SLEEPING

Allows the app to prevent the device from going to sleep.
VERSION:1.0
SIZE:4M
SPONSORED