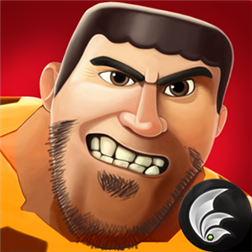 SPONSORED

Description
An ancient eposide from Feamber this Spring! Defend homeland in 10000 B.C.!
Back to 10000 B.C, there is a happy family live in a beautiful island. They hunt, fish and sing everyday. However, the peace was broken by an powerful yet evil force. Lord Balong, the evil from far away, came to conquer this little island. Ben, and his families, have to pick up weapons and defend the homeland.
* Stunning and clear 3D graphics: 10+ of beautiful places to defend. 100+ levels!
* Giant catapult, Spear, or Boom-pumpkin? 15+ weapons bring you back to 10000 B.C.!
* Absolutely powerful magic! Why not use the nature power to defend!
* You are not fighting alone! Several families with different skills can be called!
* Dinosaur, boar, Big barbarian? Your enemies are powerful and yet ridiculos!
* BOSS you`ve never experienced in other games.
* Easy to play, and deep to discover. Will you find the secrets on the island?
Screenshots
Info
Download size
13 MB
App requires
phone identity
owner identity
music library
media playback
data services
web browser component
HD720P (720×1280)
WVGA (480×800)
WXGA (768×1280)
Supported languages (2)
English (United States)中文(简体)
SPONSORED