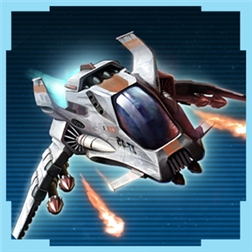 Description
★★★★★ *** 100% free! ***
3D Space Shoot'em Up for Smartphones and Tablets
Destroy the alien-armada in the infinite space before it reaches the earth!
Compete with other players in this science fiction shoot'em up and become the best pilot in the universe!
SPONSORED

Cold Space awaits you:
• Numerous different enemies
• Constantly changing challenges in your league
• State of the art 3D graphics and sound effects
• Fierce boss battles
• Fantastic weapons, power-ups and drones
• Classic arcade action with impressive 3D visuals
Get ready to fire!
Help and feedback – http://support.mobile.gameforge.com/
Gameforge – http://www.gameforge.com
Screenshots
Info
Publisher
Gameforge Productions GmbH
App requires
phone identity
media playback
data services
push notification service
movement and directional sensor
HD720P (720×1280)
WVGA (480×800)
WXGA (768×1280)
Supported languages (12)
DeutschΕλληνικάEnglishEnglish (United States)españolfrançaisitalianopolskiPortuguêsromânăрусскийTürkçe
SPONSORED