Description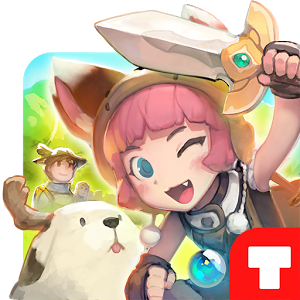 Match your way to victory in this epic adventure RPG, Crusaders Quest!
SPONSORED

Enter the world of Hasla, and uncover the mysteries that have befallen the land. Who could be behind it all? Gather your team from over 200 Heroes, and quest through real-time puzzle combat! Defeat the waves of monsters, and save the Goddess and find out who is behind all the destruction!
– Battle the Corrupted Soltar in the Fortress of Souls and confront his evil corrosive magic!
– Enter a retro 16-bit RPG and traverse the lands to save the Goddesses!
– Enjoy a fast-paced puzzle combat! Match your heroes' skill blocks to quickly decimate your enemies, and deliver devastating special moves!
– Strengthen your Heroes and enter the Colosseum and battle against the might from around the world! With over 200 Heroes to collect, the combinations are endless! Does your team have what it takes to get to the top?
– Uncover the mystery of the madness in the world. Follow the trail of magic rescue the Goddesses, on their quest to cleanse the corruption from the world!
– Gear up 6 Unique Classes, with over 200 Unique Heroes in this 16-bit world! Choose the Powerful Warrior, the Magical Wizard, the Precise Hunter, the Lightning Quick Archer, the Priest with the Healing Grace, or the Paladin, who strikes with Holy Might!
Screenshots
What's New
-New World Boss 'Manacar'!
– 6 New Soulbound Weapons!
– New Item 'Ring' has been added!
– 6 New Costumes!
– Hero Skills and Balance Fixes
– Other error fixes
For more info, visit our Forums at: bit.ly/CQ330Patch
Happy Questing!
Like Us! facebook.com/CrusadersQuest
Follow Us! Twitter.com/CrusadersQuest
Permission
Version 2.4.10.KG can access:
find accounts on the device
find accounts on the device
read phone status and identity
modify or delete the contents of your USB storage
read the contents of your USB storage
access USB storage filesystem
modify or delete the contents of your USB storage
read the contents of your USB storage
Wi-Fi connection information
Device ID & call information
read phone status and identity
modify battery statistics
receive data from Internet
full network access
use accounts on the device
run at startup
control vibration
disable your screen lock
change network connectivity
view network connections
connect and disconnect from Wi-Fi
prevent device from sleeping
Google Play license check
Size: 44 MB
Version: 2.3.8.KG
SPONSORED