Tap Knight and the Dark Castle
Description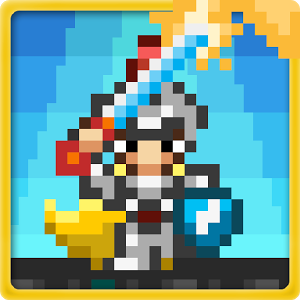 Introducing an epic clicker RPG runner with beautiful pixel graphics and totally simple tapping battle control. The quicker you tap, the more damage you will unleash!
***If you are stuck in the connecting to tapjoy loading screen, please disable adblock on your device***
=== STORY ===
Tap Knight and the Dark Castle follows the event after Tales of Clicker Knights RPG. As the Princess is safely rescued from the monsters, the Royal Scouts found the source of these abominations in the Dark Castle. The King quickly sends forth an expedition to defeat the monsters and destroy evil once and for all.
With such a daunting task, an angel descends to lend a hand to the brave knight that would venture forth to the Dark Castle…
=== DESCRIPTION ===
Tap Knight and the Dark Castle is a 2D Clicker RPG Runner with retro and pixel art style. The hero travels in the castle and battle monsters while players help by tapping as quickly as possible to unleash the help of the Angel. How far can you go before you have to regroup?
Level up, upgrade your equipment, recruit mercenaries and craft weapons to buff your knight and prepare for showdown battles with the dark castle's many guardians.
=== FEATURES ===
★ Watch as your hero and angel battle dark creatures
★ Upgrade your hero or unlock other more powerful heroes to use
★ Recruit allies such as ninja, ranger, samurai and many more to aid your expedition
★ Craft mighty weapons and equip your heroes and allies with the best weapons!
★ Tons of other upgradables
★ Collect Golden Knight equipments and unleash your true potential in fever mode burst
★ In-game tutorial
★ Daily Reward
★ Achievement Reward
★ Compare your progress with your friends!
★ Simple tapping/clicking battle system
Check out our pages below for more information, updates and announcement about Tap Knights and the Dark Castles!
SPONSORED

Screenshots
 What's New
–  Player's and enemy's color turns red when hit
– GUI related with weapon is changed.
– "Consecutive play" is changed to "Daily Play Time" in quest.
– New quest : Tap Count
– Process of claiming reward is changed
– Tap knight and the dark castle facebook support page button is added in setting window.
Permission
Version 0.3.7 can access:
read phone status and identity
modify or delete the contents of your USB storage
read the contents of your USB storage
modify or delete the contents of your USB storage
read the contents of your USB storage
Wi-Fi connection information
Device ID & call information
read phone status and identity
full network access
view network connections
Google Play license check
Size: 26 MB
Version: 0.3.7
SPONSORED