Doodle Army 2 Mini Militia
Description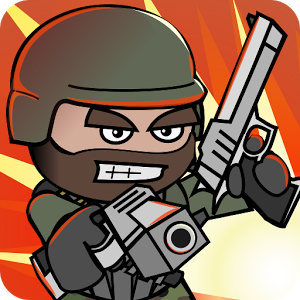 Experience intense multiplayer combat with up to 6 players online or 12 using local wi-fi. Train with the Sarge and sharpen your skills in offline Training, Co-op and Survival modes. Shoot a multitude of weapon types including the sniper, shotgun and flamethrower.
Features explosive online and local multiplayer warfare! Intuitive dual stick shooting controls. Open world maps utilizing rocket boots for extended vertical flight. Zoom control, melee attacks and dual wield ability with modern and futuristic heavy duty weapons and grenades. Play team based battles in this fun cartoon themed cross between Soldat and Halo.
Doodle Army 2 Mini Militia aka DA2, based on the original stickman shooter Doodle Army, was created based on player feedback and suggestions. We love to hear your ideas so thank you and keep them coming! Give a call out to Sarge from the in-game email link!
Purchase the Pro Player Pack to get full access to dual wield ability, extra avatar customization items and online weapons such as the rocket launcher, sniper rifle, laser, saw gun and more!
SPONSORED

Screenshots
What's New
v2.2.23 Release Notes
-Vastly improved the speed in which a client finds an open Quick Play server to play. Most noticeable at peak usage (less waiting = more fun!)
-Bug fixes needed to support upcoming custom rooms
-More hacker/cheater deterrent fixes incoming (play clean and follow the rules of engagement.)
Permission
This app has access to:
approximate location (network-based)
precise location (GPS and network-based)
read phone status and identity
modify or delete the contents of your USB storage
read the contents of your USB storage
modify or delete the contents of your USB storage
read the contents of your USB storage
read phone status and identity
receive data from Internet
prevent device from sleeping
view network connections
pair with Bluetooth devices
full network access
Google Play license check
Size: 45 MB
Version: 2.23
SPONSORED