Drink Beer, Neglect Family
Description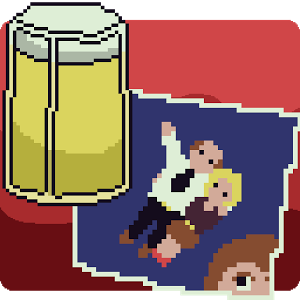 You are a depressed father who spends most of his time drinking beer and avoiding his family. How long can you avoid them, and at what cost?
Every beer you drink increases your score, and applies a different effect. Some beers make you unable to jump, some make you fall off of bridges, some make you throw up every few seconds, and so on.
On top of that, pictures of your family pop up everywhere. You need to avoid them, so they don't remind you of your duties as a father and a husband.
Features:
+ Arcade platform gameplay
+ 8 unique beer effects – ranging from mandatory puking to inability to climb ladders
+ Global highscores
+ Achievements
+ Retro Pixel graphics
+ Dark humor
+ Interesting story and characters
+ Multiple endings
SPONSORED

I might add more content in the future!
Screenshots
What's New
Fixed rare sound issues.
Made game icon prettier.
Permission
Version 1.0.0 can access:
prevent device from sleeping
full network access
control vibration
view network connections
Size: 0 MB
Version: 1.0.0 
SPONSORED