Description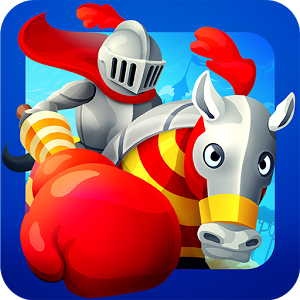 You, as the brave knight SirVival, riding atop Tantrum, your noble steed, are rushing through the fantastical land of Galgamar on a quest to rescue the kidnapped Princess Parsnip from the vile clutches of Maelstrom "The Malevolent," an evil dragon! SirVival introduces an epic adventure in the form of a "platform-runner."
• Punch and Jump: The brave knight SirVival is equipped with a lance fit with a boxing glove on its tip. As he and Tantrum rush through the land of Galgamar, Tantrum can jump over enemies and obstacles, SirVival can punch enemies and obstactacles by thrusting his lance, and SirVival and Tantrum (as a combined unit) can perform a jumping punch!
• Dynamic Roller-Coaster: As SirVival and Tantrum race through the land of Galgamar, they encounter "switches." SirVival can punch switches that magically float in the air and Tantrum can jump onto ground-based switches to either change the path or eliminate an obstacle. Play each level multiple times, explore different paths, and find a variety of hidden treasures!
• Race: As SirVival and Tantrum race through the land of Galgamar they will encounter "friendly" knights (atop horses of their own) who are, also, in pursuit of Princess Parsnip! Race against these "friendly" knights in a variety of obstacle courses; win a race and earn a valuable prize!
SPONSORED

• Find and Craft Treasures: During the quest, SirVival and Tantrum collect gold and power-ups, unlock treasures, and earn magical objects. Seek out Bamboozle the goblin and his roaming shopping cart! Bamboozle stocks treasures for purchase or rent that will help you on your journey! His traveling companion, Herkimur, will repair damaged items! While on the hunt for the Princess, SirVival and Tantrum might find magical items. Call upon The Wizard in his tent! Through his crafting table he shall enchant SirVival's helmets with magical abilities!
• Storybook Presentation: SirVival is an adventure game that looks and feels like it has been lifted from the pages of a storybook. The story of SirVival's adventures is told through narrated picture panels.
Screenshots
What's New
Offline gameplay.
Permission
This app has access to:
find accounts on the device
find accounts on the device
modify or delete the contents of your USB storage
read the contents of your USB storage
modify or delete the contents of your USB storage
read the contents of your USB storage
receive data from Internet
use accounts on the device
full network access
prevent device from sleeping
view network connection
Size: 47 MB
Version:1.1.76.1
SPONSORED