Description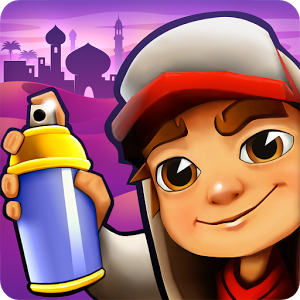 DASH as fast as you can!
DODGE the oncoming trains!
Help Jake, Tricky & Fresh escape from the grumpy Inspector and his dog.
SPONSORED

★ Grind trains with your cool crew!
★ Colorful and vivid HD graphics!
★ Hoverboard Surfing!
★ Paint powered jetpack!
★ Lightning fast swipe acrobatics!
★ Challenge and help your friends!
Join the most daring chase!
A Universal App with HD optimized graphics.
By Kiloo and Sybo.
Screenshots
What's New
1.51.1
★ Critical performance fix
1.51.0
★ Join the Subway Surfers World Tour in the mystical Middle East
★ Explore the magical Arabian Subway with Jake and his friends
★ Spice up your surfer crew with a sparkling new Outfit for Amira
★ Jump on the Old Dusty board and soar through the enchanted Subway
★ Search for magic lamps high and low to earn the Weekly Hunt prizes
Permission
Version 1.51.1 can access:
find accounts on the device
find accounts on the device
read phone status and identity
modify or delete the contents of your USB storage
read the contents of your USB storage
modify or delete the contents of your USB storage
read the contents of your USB storage
read phone status and identity
download files without notification
receive data from Internet
full network access
Google Play license check
view network connections
connect and disconnect from Wi-Fi
prevent device from sleeping
control vibration
Updates to Subway Surfers
Size: 54 MB
Version: 1.51.1
SPONSORED