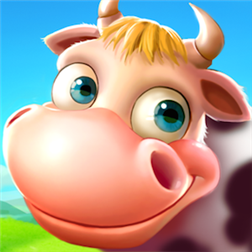 Description
"Have you ever wanted to run your own farm? Now you can! Come and create your own farm in Family Farm Seaside. Feed your animals, grow crops, and sell products for a nice profit.
◆◆◆Over 60 Million people already build their own farm in the world! ◆◆◆
Family Farm Seaside is a beautiful and fun farming simulation from the makers of the hit Facebook game, Family Farm. Farming doesn't have to be hard, the simple controls and touch interface allows anyone to start playing in just seconds. Plant, grow and harvest your crops with just a tap on the screen. The beautiful graphics and sound effects provide a fun and entertaining atmosphere for all ages. Family Farm Seaside includes over 200 unique products your farm can produce. Complete farming missions and sell your crops to become the best farmer around!
◆◆◆◆◆ REVIEWS ◆◆◆◆◆
5/5 "Loving it. Really enjoy playing the game. It gets you addicted to the game"
5/5 "FABULOUS. I love this game, you can do so much on it"
5/5 "Awesome. I love it is fabulously great and you get so many awards"
5/5 "FANTASTIC Love love love this game."
5/5 "Great game Very addictive…. I do play every day multiple times a day."
FEATURES
• FREE to play
• Become neighbors with farmers from all over the world
• Plant, harvest, and process over 200+ unique products
• More than 100+ achievements to complete
• Daily orders for you to fill with your farm products
• New missions updated regularly with fun new features
SPONSORED

Tired of playing by yourself? Invite your friends and add them as your farming neighbors. Challenge them to a race and earn over 40 achievements.
So come along and move to the Seaside! Install now!
Our team here at Funplus would love to hear from you!
If you are having trouble entering the game or are experiencing a black screen, on your device please try to clear the game cache. To do this, go to Setting —> Applications —> Family Farm Seaside —> Clear Data.
For more information on how to do this, check out this link http://bit.ly/1huCZQb. If you are still having problems, please contact our support team at [email protected]
App Notes:
• This app requires active internet connection to play, please make sure your device is connected while playing.
• Please note that this is a standalone version of Family Farm, and will not sync or connect to your Facebook farm.
"
The Island Farm is now available!
This must be the biggest update in history! Follow Darryl and Felicia's father to explore the new island and unlock awesome new features! Use a zeppelin to transfer goods between your Seaside Farm and Island Farm to improve your business. Finish Helicopter Orders and try out brand new machines! This version will also introduce a funny camel and the cutest panda to all of our dear Farmers.
Will you be the first one to set sail to the new island?
App Screenshots
Info
Publisher
FunPlus Interactive
Works with
Windows Phone 8.1
Windows Phone 8
App requires
phone identity
owner identity
location services
maps
music library
photos library
media playback
data services
push notification service
movement and directional sensor
web browser component
HD720P (720×1280)
WVGA (480×800)
WXGA (768×1280)
Supported languages (17)
العربيةDeutschEnglishEnglish (United States)españolfrançaisitaliano日本語한국어NederlandspolskiPortuguêssvenskaไทยTürkçe中文(简体)中文(繁體)
SPONSORED