GHOST TRICK: Phantom Detective
Description
Experience this much beloved, touching story for yourself. Try this brand-new kind of "Interactive Mystery" for free right now!
*Devices and iOS supported: iPhone 3GS or later, iPod touch, iPad with iOS 4.3 or later
*iPhone 3G / iPod touch 2G are not supported
*Languages: English, French, Italian, German, Spanish
◆ This Story Starts with Your Death
In an obscure corner of the city, a single bullet takes your life, but that's not all it takes. When you awaken as a spirit, you realize you have no recollection of who you are. Thus begins your search for the answers to these questions: "Who am I?", "Who killed me?", and "Why was I killed?"
One night is all you have to answer these questions before your soul vanishes at dawn's first light, and your only lead is the female detective who witnessed your death…
◆ "Possess" and "Manipulate" Your Way to the Truth!
As the main character, you can possess and manipulate objects, such as a guitar or an umbrella, using your "Powers of the Dead". A variety of actions will be available to you depending on what you possess. Strive to possess the truth itself!
◆ Rewind Time "4 Minutes Before Death" to Change Fate!
Death seems to follow you wherever you go, but you can do something about that! Using one of your ghostly powers, go back to a point 4 minutes before a person's death and change their fate!
SPONSORED

◆ Chapters 1 and 2 are Free!
Should this touching tale "possess" you, the rest of the story is available for purchase under "Buy More Chapters" on the title screen.
◆Based on the Critically Acclaimed Nintendo DS Game
*GameSpot Best of 2011 Awards – Best Handheld Game Winner
*GameTrailers Game of the Year Awards 2011 – Best Nintendo DS Game Winner
*For iPod touch and iPad users, a Wi-Fi environment will be necessary to purchase additional chapters.
Screenshots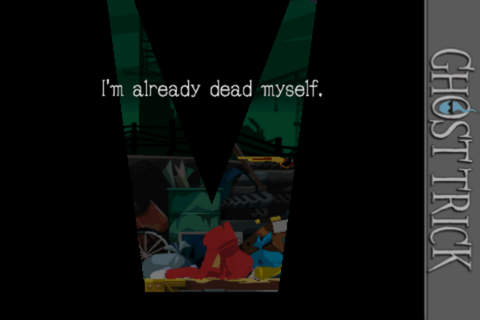 What's New
"Ghost Puzzle" minigame added.
Clear the full game once to unlock this feature.
Updated: Dec 28, 2012
Version: 1.01.00
Size: 355 MB
Languages: English, French, German, Italian, Spanish
Seller: CAPCOM Co., Ltd
© CAPCOM CO., LTD. 2010 ALL RIGHTS RESERVED.
Rated 9+ for the following:
Infrequent/Mild Cartoon or Fantasy Violence
Requirements: Compatible with iPhone 3GS, iPhone 4, iPhone 4S, iPhone 5, iPod touch (3rd generation), iPod touch (4th generation), iPod touch (5th generation) and iPad. Requires iOS 4.3 or later.
SPONSORED