Description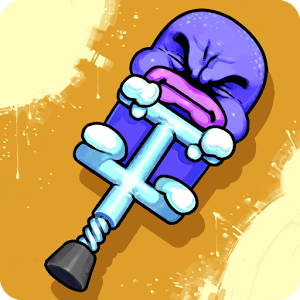 Join the Pogo gang!In a grim sci-fi future where pogoing is outlawed, this gang of misfits breaks all the rules.
SPONSORED

Pogo over the police and their dogs, avoid hazards, and make it to the top!
And once you complete the final level, try to reach a highscore in the Endless mode.
Features:
– Casual one-handed gameplay, no virtual buttons here!
– Adjust your angle to pogo around
– 2 gameplay modes: 40 hand-made Levels and Endless Mode to keep you pogoing
– Several dozens of characters to unlock
– Sharp pixel art graphics
– Groovy music by Eirik Suhrke, composer of Super Crate Box and Ridiculous Fishing
Important information
This game contains third party advertising which can be removed via a one time IAP. This game contains coins which can be collected within the game for free or bought with real money. This game contains cross promotion for other Nitrome games and this is not removed with the IAP for removal of ads.
Screenshots
What's New
 -10 new wacky characters
– 10 new "Extreme" levels for those who have completed the game
– Minor tweaks in early levels for a smoother difficulty curve
Thanks for playing!
Permission
ersion 1.2 can access:
modify or delete the contents of your USB storage
read the contents of your USB storage
modify or delete the contents of your USB storage
read the contents of your USB storage
view network connections
full network access
Size: 25 MB
Version: 1.2 
SPONSORED