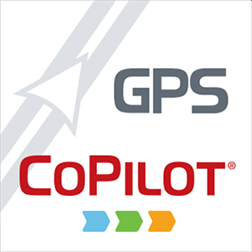 Description
Plan and explore with free offline maps, route planning and directions.
★★★★★ Featured on Engadget & CNET ★★★★★
Find the best way to all the places you need to go with CoPilot. Detailed street maps of an entire country or region are stored on your phone, so you can plan routes and get driving or walking directions without a mobile internet connection. Millions of useful Points of Interest are built-in, so it's easy to find nearby restaurants, hotels and more. You can also search for local places using Yelp, Google™ and Wikipedia.
KEY FEATURES:
✔ Premium quality 2D street maps stored on-board your phone for offline use
✔ Powerful route planning with multi-stop trip optimizer
✔ Millions of Points of Interest
✔ Alternate Routes: Choose from 3 ways to your destination
✔ Driving directions: manually scroll through the turns to your destination
✔ Walking mode
✔ 14 days FREE use of full voice-guided navigation and ActiveTraffic™ features. After 14 days you can continue to enjoy free, unlimited access to offline maps, POIs and route planning, or upgrade to unlimited turn-by-turn navigation.
SPONSORED

IN-APP UPGRADE TO VOICE-GUIDED NAVIGATION
Upgrade to full in-car navigation features via in-app purchase and enjoy unlimited use of turn-by-turn guidance with voice instructions, 3D maps, speed limit warnings, ClearTurn™ display, lane indicator arrows and more!
AVAILABLE MAPS
✔ Download any ONE of the following for free: US + Canada; UK + Ireland; Balkans; BeNeLux, Russia; DACH; France; Greece; Iberia; Italy; Nordics; Poland; Romania; Turkey; Ukraine, Southern Africa; Australia + NZ; Brazil; Middle East
✔ Add extra map regions through in-app purchase
NOTES:
►* ActiveTraffic +social sharing incl. Yelp, Google + Wikipedia require a mobile data connection
www.copilotgps.com
EMEA: @copilotlive, facebook.com/copilotlive, +copilot
USA & Canada: @copilotlive_us, facebook.com/copilotliveusa
Screenshots
Info
Download size
13 MB
App requires
contacts
phone identity
location services
media playback
data services
movement and directional sensor
speech
VOIP calling
HD720P (720×1280)
WVGA (480×800)
WXGA (768×1280)
Supported languages (6)
DeutschEnglishEnglish (United States)españolfrançaisitaliano
SPONSORED
More Free Games & Apps Downloads: