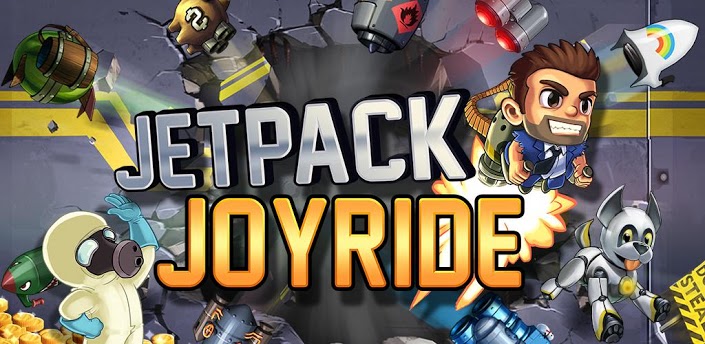 Description
You're going for a ride – from the creators of FRUIT NINJA! One of the hottest mobile games in the world is now available free on Google Play!** Winner **
– Pocket Gamer – Best Action/Arcade Game 2012
– Pocket Gamer – Overall Game of the Year 2012
– Gamasutra Mobile Game of 2011
– Game Revolution Best Mobile Game 2011
****
Suit up with a selection of the coolest jetpacks ever made and take to the skies as Barry Steakfries, the lovable hero on a one-way trip to adventure! From the creators of the worldwide phenomenon Fruit Ninja comes the action-packed Jetpack Joyride, Halfbrick's most anticipated Android game ever!
****
"Jetpack Joyride is, quite simply, an amazing game." — IntoMobile
"Like all the best mobile games, Jetpack Joyride is criminally simple." — Kotaku
"A miracle, by all accounts." – PocketGamer
****
Join Barry as he breaks in to a secret laboratory to commandeer the experimental jetpacks from the clutches of science evildoers. After lift-off, simply touch the screen to ascend and release to descend, raining bullets, bubbles, rainbows and lasers downwards as you fly towards higher and higher scores!
You'll start off with the legendary Machine Gun Jetpack to scatter the evil scientists of Legitimate Research, but throughout each game you'll collect coins and complete missions to earn cash and buy new gear in The Stash! Pick your favorite jetpack, snazzy outfit and stock up on items then get back out there!
Get a boost of speed and power using the Lil' Stomper, Profit Bird and Crazy Freaking Teleporter, just a selection of the vehicles pickups available – all playable with one touch controls.
SPONSORED

Stay alive, get funky and lose yourself in Jetpack Joyride. There's so much to see and do, all the time in the world and more than enough jetpacks! As always, Barry Steakfries will provide!
Due to technical limitations, any device with 600Mhz or less will be unable to run Jetpack Joyride. Known devices include:
HTC Wildfire S
Huawei M865
Samsung Galaxy Mini
LG Optimus One
HTC myTouch 3G Slide
HTC Explorer
ZTE X500
Samsung Replenish
LG Ally
Samsung Dart
App Screenshots
Videos
Permissions
THIS APPLICATION HAS ACCESS TO THE FOLLOWING:
YOUR LOCATION

APPROXIMATE LOCATION (NETWORK-BASED)

Allows the app to get your approximate location. This location is derived by location services using network location sources such as cell towers and Wi-Fi. These location services must be turned on and available to your device for the app to use them. Apps may use this to determine approximately where you are.

NETWORK COMMUNICATION

FULL NETWORK ACCESS

Allows the app to create network sockets and use custom network protocols. The browser and other applications provide means to send data to the internet, so this permission is not required to send data to the internet.

PHONE CALLS

READ PHONE STATUS AND IDENTITY

Allows the app to access the phone features of the device. This permission allows the app to determine the phone number and device IDs, whether a call is active, and the remote number connected by a call.

STORAGE

MODIFY OR DELETE THE CONTENTS OF YOUR USB STORAGE

Allows the app to write to the USB storage.

YOUR APPLICATIONS INFORMATION

RETRIEVE RUNNING APPS

Allows the app to retrieve information about currently and recently running tasks. This may allow the app to discover information about which applications are used on the device.
YOUR ACCOUNTS

FIND ACCOUNTS ON THE DEVICE

Allows the app to get the list of accounts known by the device. This may include any accounts created by applications you have installed.

NETWORK COMMUNICATION

VIEW NETWORK CONNECTIONS

Allows the app to view information about network connections such as which networks exist and are connected.

VIEW WI-FI CONNECTIONS

Allows the app to view information about Wi-Fi networking, such as whether Wi-Fi is enabled and name of connected Wi-Fi devices.

GOOGLE PLAY LICENSE CHECK

Google Play license check

SYSTEM TOOLS

TEST ACCESS TO PROTECTED STORAGE

Allows the app to test a permission for USB storage that will be available on future devices.
VERSION:1.3.5
SIZE:30M
SPONSORED