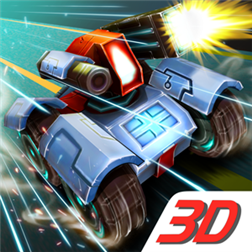 Description
Go Tanks and enjoy the winner's feeling on death race!
Playing role of colorful unique style tanks, your mission is to win the death race not only on grand prix roads but also on various difficult types of terrains such as deserts, docks, forests.
To complete every level, tanks have to use weapons like guns, lasers, rockets, tank cuirass to combat other competing tanks.On every death race road, another task of tanks is to collect items (Drop Bomb, Horning Cartridge, Global) to increase battle indicators.
More specially, tanks also have to face against harsh natural challenges like tsunami, volcano eruption and so on on each level, depending on chosen terrains.
Unlike racing military tanks, this game brings you the feeling of speed and power of tanks racing on real local terrains at present.
Let's get started Fast paced 3D racing game.
FEATURES
■ RPG racing games with different battle index of health, accel, attack and handling
■ 5 fantastic of tanks: Freeze Tank, Grizzly Bear, Laser Tank, Apocalypse, Panza in colorful designed styles (Sport, Old Fashion, Fashion)
■ Various weapons and equipments such as guns, lasers, rockets, tank cuirass to upgrade tanks for the increase in combat skills
■ Unique designed racing road based on real local terrains: deserts, docks, forests
■ 3D animation support
■ Realistic effects on sound based on the laws of physics
■ Functions updates usually
SPONSORED

Support us via email: [email protected]
Screenshots
Info
Publisher
AI&T JSC
App requires
phone identity
media playback
data services
movement and directional sensor
HD720P (720×1280)
WVGA (480×800)
WXGA (768×1280)
SPONSORED
Saurav Saha
A simple college guy, a complete "Gamoholic" for any kind of games from pc to smartphones...Love to hang out with friends & family and a tech savvy.