Description
Screenshots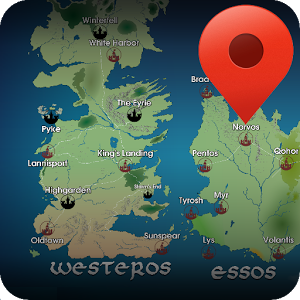 The Map for Game of Thrones was developed using vector graphics to provide you with the best level of detail and performance possible. The map was optimized to show details depending on the level of zoom selected. Zoom in to view more details!
★ Features ★
Recap Mode – by selecting an episode from one of the previous seasons you will see the scenes placed on the map. Using the navigation controls you can go through each scene – see the characters, read a scene synopsis or the full transcript.
Character Information – view detailed information about all the characters in the show (biography, appearance, history and quotes).
Point of Interest info – read detailed information on all regions, cities, castles and other points of interest by selecting the icon or label on the map.
SPONSORED

Screenshots
What's New
Added S6E4, S2E06-E10, S3E1, S4E03-E05 recaps. Performance improvements and bug fixing.
Permission
Version 1.05 can access:
modify or delete the contents of your USB storage
read the contents of your USB storage
modify or delete the contents of your USB storage
read the contents of your USB storage
full network access
view network connections
Size: 48 MB
Version:1.05
SPONSORED