Description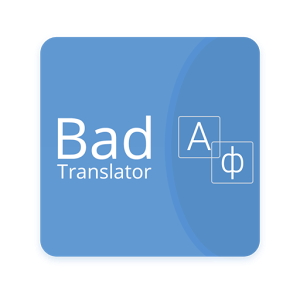 BadTranslator is an app which takes your phrase, and translates it many times through different languages, and back to English again. During this process, you can get all sorts of crazy results, and you're guaranteed to have plenty of fun.
We require no permissions other than internet access, as it uses our servers to translate your phrase.
Give it a try, and if you have any suggestions, don't hesitate to contact us.
SPONSORED

Screenshots
What's New
Further optimizations.
– Auto sync (restores data once reinstalled)
Permission
Version 2.2 can access:
full network access
view network connections
Size: 2 MB
Version: 2.2 
SPONSORED