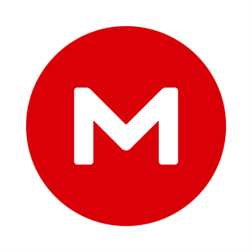 Description
MEGA: The Privacy Company
Privacy
Here at MEGA, you are in charge of your data. Neither MEGA, your Internet provider, a search engine, your insurance company or a government can access it. If you want to share it, it's up to you (and you only).
Encryption
The secret sauce to ensure that your stuff on MEGA stays private is technically called "encryption". We have a number of smart people to ensure that encryption is done properly, and you are the only one in charge of your stuff.
Platform Choice
MEGA is available on Windows Phone, Android, iOS and more. On your desktop, MEGA needs to use HTML5 compatible browsers to ensure your stuff remains safe. We recommend Mozilla Firefox and Google Chrome.
Space
We're the first to provide a whopping 50 GB of storage space to our customers for free. You can also get more if you decide to buy. But let's just get you started on the juicy 50 GB already.
Updated name to MEGA Privacy, minor bugs fixed.
SPONSORED

App Screenshots
Info
Works with
Windows Phone 8.1
Windows Phone 8
App requires
video and still capture
music library
photos library
media playback
data services
movement and directional sensor
web browser component
HD720P (720×1280)
WVGA (480×800)
WXGA (768×1280)
SPONSORED