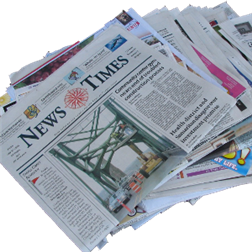 SPONSORED

Description
The most comprehensive and easy to use directory of thousands of local, national and international newspapers with free online content around the world.
Newspaper articles can be shared using email or Facebook.
Are you curious about the world around you? How do people in other communities see their nation and the world?
CONTENT
Content is not filtered or altered and is presented directly as provided by newspaper publishers.
USA
AFRICA
Algeria, Benin, Egypt, Ethiopia, Ghana, Guinea, Ivory Coast, Kenya, Liberia, Madagascar, Mauritius, Morocco, Namibia, Nigeria, Reunion Island, Senegal, Seychelles, Sierra Leone, South Africa, Swaziland, Tanzania, Tunisia, Uganda, Zambia, Zimbabwe
ASIA
Afghanistan, Bangladesh, Bhutan, Brunei, China, India, Indonesia, Japan, Laos, Macau, Malaysia, Maldives, Mongolia, Nepal, North Korea, Pakistan, Philippines, Saudi Arabia, Singapore, South Korea, Sri Lanka, Taiwan, Thailand, Vietnam
CARRIBEAN
Antigua and Barbuda, Aruba, Bahamas, Barbados, Bermuda, British Virgin Islands, Cuba, Dominican Republic, Haiti, Jamaica, Puerto Rico
EUROPE
Albania, Andorra, Austria, Belarus, Belgium, Bosnia-Herzegovina, Bulgaria, Croatia, Cyprus, Czech Republic, Denmark, Estonia, Finland, France, Georgia, Germany, Gibraltar, Greece, Hungary, Iceland, Ireland, Italy, Latvia, Liechtenstein, Lithuania, Luxembourg, Macedonia, Malta, Netherlands, Norway, Poland, Portugal, Romania, Russia, Scotland, Slovakia, Slovenia, Spain, Sweden, Switzerland, Turkey, Ukraine, United Kingdom
MIDDLE EAST
Bahrain, Cyprus, Egypt, Iran, Iraq, Israel, Jordan, Kuwait, Lebanon, Oman, Qatar, Saudi Arabia, Turkey, United Arab Emirates, Yemen
THE AMERICAS
Argentina, Belize, Bolivia, Brazil, Canada, Chile, Colombia, Costa Rica, Ecuador, El Salvador, Guatemala, Guyana, Honduras, Mexico, Nicaragua, Panama, Paraguay, Peru, Uruguay
SOUTH PACIFIC
Australia, New Zealand
Screenshots
Info
Download size
2 MB
Works with
Windows Phone 8
Windows Phone 7.5
App requires
phone identity
owner identity
location services
media playback
microphone
data services
push notification service
movement and directional sensor
HD720P (720×1280)
WVGA (480×800)
WXGA (768×1280)
SPONSORED