Photosphere Live Wallpaper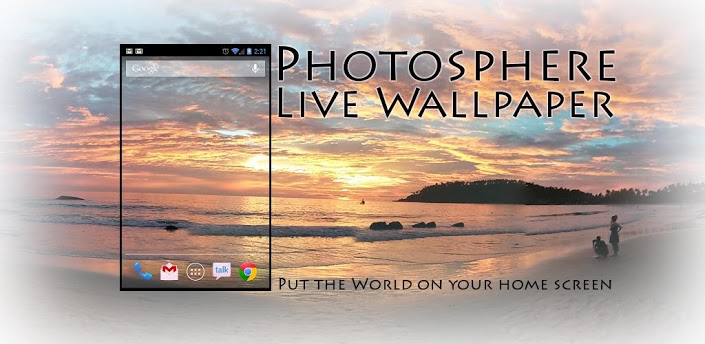 Description
Take advantage of Android's unique Photosphere feature by viewing one right on your home screen! Photosphere Live Wallpaper properly displays a Photosphere image on any Android device, with appropriate camera controls when swiping between home screens and tilting your device!Includes one example image (Beach!), and the ability to select your own Photosphere images.
TO USE: Home Screen -> Long Press -> Live Wallpapers
SPONSORED

If you enjoy this, please help support us by checking out our other products!
App Screenshots
What's New
What's in this version:
v1.01:
– Fixed occasional crash on Galaxy S3
– Fixed default image name
– Fixed scaling on built-in images
Permissions
THIS APPLICATION REQUIRES NO SPECIAL PERMISSIONS TO RUN.
VERSION:1.01
SIZE:4.8M
SPONSORED