Description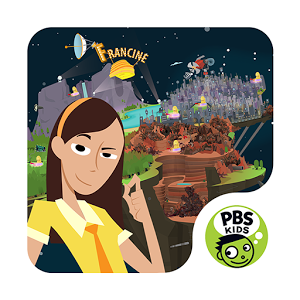 Based on the PBS KIDS series, The Electric Company, the Prankster Planet app features eight quests that you can complete to save Earth from the Reverse-a-ball machines that are reversing all the words on Earth. (Words like "STOP" are being reversed to say "TOPS" and it's causing a lot of confusion and traffic jams!) Stop the Pranksters and their bots from causing more mayhem by shutting down all eight Reverse-a-Ball machines hidden in the jungles, cities, junkyards, and underground world of Prankster Planet.The Prankster Planet app features:
• Side-scrolling play and exploration in a 2D platformer world
• 8 unique quests with math curriculum woven throughout
• An avatar creator with dozens of customization options
• Collectible rewards
• Math learning fun with graphs, charts and data analysis challenges
If you love the app, please leave a review!
SPONSORED

About PBS KIDS
PBS KIDS The Electric Company Prankster Planet app is part of PBS KIDS' ongoing commitment to helping kids build the skills they need to succeed in school and in life. PBS KIDS, the number one educational media brand for kids, offers all children the opportunity to explore new ideas and new worlds through television and digital media, as well as community-based programs.
Privacy
Across all media platforms, PBS KIDS is committed to creating a safe and secure environment for children and families and being transparent about what information is collected from users. To learn more about PBS KIDS' privacy policy, visit pbskids.org/privacy.
Ready To Learn
The contents of this app were developed under a cooperative agreement #PRU295A100025, from the U.S. Department of Education. However, these contents do not necessarily represent the policy of the Department of Education, and you should not assume endorsement by the Federal Government
Screenshots
Permission
Version 1.0 can access:
modify or delete the contents of your USB storage
read the contents of your USB storage
modify or delete the contents of your USB storage
read the contents of your USB storage
full network access
view network connections
prevent device from sleeping
Size: 52 MB
Version: 1.0 
SPONSORED