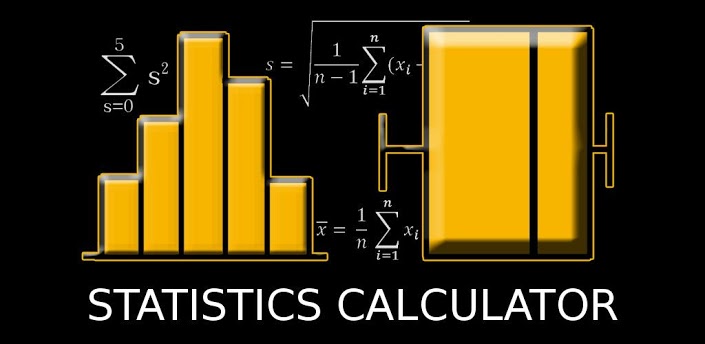 Description
While you enter data, the app will calculate statistics and draw graphs corresponding to the data entered.What you have to do:
– Enter numbers separated by white spaces and see the results.What you can't do:
– Enter mathematical expressions or use functions.Available graphs:
– Bar chart
– Histogram
– Box Plot
– Line chart
Statistics:
– Sample size
– Arithmetic Mean
– Geometric Mean
– Mode
– Minimum
– Maximum
– Sum
– Median
– Variance
– Standard deviation
– Coefficient of variation
– 1st Quartile
– 3rd Quartile
– Quantile 1/8
– Quantile 7/8
– Quantile 1/16
– Quantile 15/16
– Quantile 1/32
– Quantile 31/32
– Outliers barrier
– Lower "Whisker"
– Upper "Whisker"
– Outliers candidates
The reference section of the application contains statistics formulas.
Try the online version: http://www.cgollner.x10.mx/stats/
Official Facebook page: http://www.facebook.com/StatisticsCalculator
Enjoy!
SPONSORED

If you have ideas or you would like some new features in the app e-mail me!
Follow my Statistics Calculator thread on XDA-Developers forum: http://forum.xda-developers.com/showthread.php?t=1456208
————————————————————-
"Statistics Calculator (Free) is a simple and intuitive calculator, which allows you to calculate statistics, view, save and share graphs as well as check formulas. – Editor's Pick from AppEggs.com"
App Screenshots
What's New
What's in this version:
3.01:
-Boxplot Q1 fix
3.0:
-New UI
-Save,Load and Send data sets (PRO)
2.5:
– New menus
– Custom histogram
– Custom graph colors
2.4:
-Data limit increased. Now you can insert up to 50 values! That's more 300%!
2.31:
-Ads
2.3:
-Input type unlocked.
2.22:
-Ads removed. No more ads.
-Added Population variance formula.
2.21:
-Fixed Geometric mean.
2.2:
-Fixed crash when inserting more than 15 values.
2.1:
-Keyboard improvement.
-Bug fixes.
-Ads
Permissions
THIS APPLICATION HAS ACCESS TO THE FOLLOWING:
NETWORK COMMUNICATION

FULL NETWORK ACCESS

Allows the app to create network sockets and use custom network protocols. The browser and other applications provide means to send data to the internet, so this permission is not required to send data to the internet.
NETWORK COMMUNICATION

VIEW NETWORK CONNECTIONS

Allows the app to view information about network connections such as which networks exist and are connected.

AFFECTS BATTERY

CONTROL VIBRATION

Allows the app to control the vibrator.
VERSION:3.01
SIZE:795k
SPONSORED