Printic – Print your photos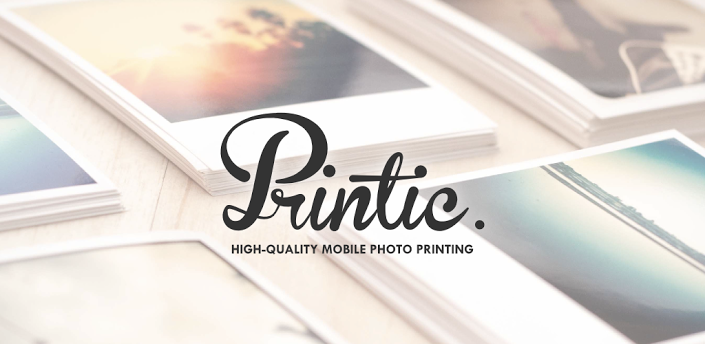 Description
The best way to PRINT and SHARE pictures with people you love.Choose pictures from FACEBOOK, INSTAGRAM and your PHONE, crop them, select recipients and that's it: your loved ones will receive lovely real pictures in their mailbox
☆ "We predict a new trend coming up", Dwell
☆ "Order vintage-style photo prints from your iPhone", CNET
☆ "Snail mail is back.", iPhoneography.com
————————————————–
Features :
♥ Fast and Fun ♥
PRINTIC is the easiest and fastest way to order prints from your phone.
Choose your pictures, crop them, select your recipients, and that's it- your loved ones will receive vintage-themed pictures in their mailboxes shortly afterwards. Snail mail is back.
SPONSORED

♥ Hi, I'm a Printic ♥
I'm 3″x4″, I'm glossy, and I'm attractive. I rock the color orange.
Once my tattooed exterior comes off, people immediately fall in love with me. Shared memory, creative tool, you can use me for anything. The sky is the limit! I like to be utilized to my fullest potential.
Currently, there are millions of me out there in the world. We can't wait to meet you.
♥ Only the Best ♥
Printic has partnered with the best photo labs around to ensure great service for your photos. All of the prints are edited using traditional wet labs and are personally checked before delivery. Our labs have served legendary photographers such as Henri Cartier-Bresson and Sebastiao Salgado.
That's what your pictures deserve.
♥ Add messages ♥
Have your pictures come with some words. Personalize your mail and let others know you are thinking about them.
♥ Pictures from everywhere ♥
Printic allows you to choose pictures not only from your phone, but also from Instagram and Facebook.
It's just as easy. In fact, it's even faster.
♥ Fast Delivery ♥
Your pictures will be delivered within 3 days in Europe and North America.
♥ Simple pricing ♥
All the prints are $0.99 / 0,79€.. No shipping costs, no hidden costs.
♥ Safe and secure ♥
The most reliable and famous third-party banking services will process your payment. We trust them and so should you. All of your data will be safely encrypted and protected before treatment.
For your convenience, your credit card number can be safely stored for easy 1-click shopping.
App Screenshots
Videos
Permissions
THIS APPLICATION HAS ACCESS TO THE FOLLOWING:
NETWORK COMMUNICATION

FULL NETWORK ACCESS

Allows the app to create network sockets and use custom network protocols. The browser and other applications provide means to send data to the internet, so this permission is not required to send data to the internet.

PHONE CALLS

READ PHONE STATUS AND IDENTITY

Allows the app to access the phone features of the device. This permission allows the app to determine the phone number and device IDs, whether a call is active, and the remote number connected by a call.

STORAGE

MODIFY OR DELETE THE CONTENTS OF YOUR USB STORAGE

Allows the app to write to the USB storage.

YOUR SOCIAL INFORMATION

READ YOUR CONTACTS

Allows the app to read data about your contacts stored on your device, including the frequency with which you've called, emailed, or communicated in other ways with specific individuals. This permission allows apps to save your contact data, and malicious apps may share contact data without your knowledge.
NETWORK COMMUNICATION

VIEW WI-FI CONNECTIONS

Allows the app to view information about Wi-Fi networking, such as whether Wi-Fi is enabled and name of connected Wi-Fi devices.

VIEW NETWORK CONNECTIONS

Allows the app to view information about network connections such as which networks exist and are connected.

SYSTEM TOOLS

TEST ACCESS TO PROTECTED STORAGE

Allows the app to test a permission for USB storage that will be available on future devices.
VERSION:1.0.4
SIZE:4.2M
SPONSORED