Red Hands – 2-Player Games
Description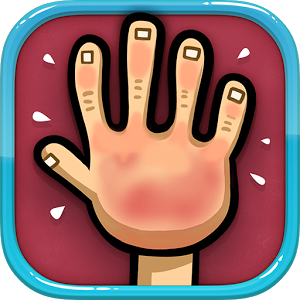 Red Hands – 2-Player Games is based on a game for kids known as "hot hands", "slaps" or even in some countries "slap jack". It belongs to games for girls and boys, but anyone who's competitive can play this reaction game. If you like to play two player games, this is a perfect choice for you!
Challenge your friends to this fun 2-player game and check who's the first one to get hot hands! Ready? Get set! Gooo!!!
How to play hot hands:
– A player stands on each side of the device
– Once the game starts, one player is the attacker and the other is the defender
– The attacker slaps by tapping once and the defender retreats by tapping at the right time
– If the defender chickens out three times, there will be a free hit granted
– The first player to reach 10 points wins the game
Known as red tomato in Great Britain, Red Hands – 2-Player Games belongs to fun games for kids, (games for girls and boys) but it really is fit for people of all ages. The game tests your reflexes and speed so if you don't pay attention, before you know it you'll get hot hands!
SPONSORED

Like what you hear? That's not all! While playing the game, you can choose different hands. Feel what an animal slaps like, or a skeleton. Want your opponent's hands to get even hotter? Choose the mighty Hulk's hand. Like body art? Choose a tattooed hand and play two player games till your red handsstart burning high!
You can now play this fun kids game without really feeling the pain. So, what are you waiting for? Download Red Hands – 2-Player Games and get ready for some hot hands slaps!
This free game is an intellectual property of PeakselGames – copyright 2015.
Screenshots
What's New
<< Play with friends, and share your result on Facebook, Twitter or Instagram! <<
Minor Bugs Fixed – Download now and have fun!! 🙂
Thank you for your support and please don't forget to rate the game! 🙂
Permission
Version 2.0 can access:
approximate location (network-based)
precise location (GPS and network-based)
read phone status and identity
modify or delete the contents of your USB storage
read the contents of your USB storage
modify or delete the contents of your USB storage
read the contents of your USB storage
read phone status and identity
full network access
view network connections
prevent device from sleeping
Size: 18 MB
Version: 2.0 
SPONSORED