Dark Arcana: The Carnival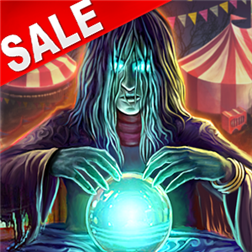 SPONSORED

Description
Find the missing woman lost in a mysterious Carnival of Horrors.
Investigate two worlds: the one you know and an alternate plane existing behind the Hall of Mirrors. Discover the secret of an ancient being known as the Evil One. Reveal the story of star-crossed lovers and stop the Evil One from breaking its magical chains and invading our world.
While traveling through dimensions, you will solve cleverly designed minigames and find hidden objects or play a special minigame as an alternative. Best of all, you will befriend a cute and clever monkey devoted to aiding you on this adventure.
 Screenshots
Info
Download size
252 MB
App requires
media playback
data services
movement and directional sensor
HD720P (720×1280)
WVGA (480×800)
WXGA (768×1280)
Supported languages (11)
DeutschEnglish (United States)Español (España, alfabetización internacional)françaisitaliano日本語한국어polskiportuguês (Brasil)русский中文(简体)
SPONSORED