Description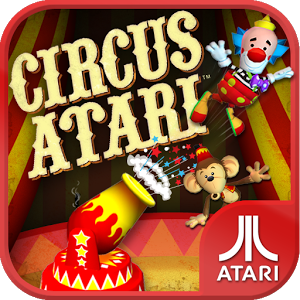 The Circus Atari™ is in town! Like a human cannonball, launch your fearless clown into the air and guide him through the big top by tilting your device. Pop balloons to hurl yourself up higher while grabbing as many Coins and Power-ups as you can—just be careful not to fall!* Land in Barrels and jump on Springboards to aid in your journey to the top!
* Grab special Power-ups to quickly soar through the air!
* Navigate around the new bum-burning fire obstacle
* Deploy safety nets to break your fall!
* Collect keys to unlock treasure chests filled with coins and nets
* Fly in style by unlocking additional characters! Collect the Convict Clown, Hippie Clown and more!
* Awesome cartoon-style graphics and animation!
* Claim daily rewards by playing every day (requires internet connection)
_______________________Come check out the latest updates, or talk to us directly!
Like us on Facebook:
http://www.facebook.com/CircusAtari
SPONSORED

*** CHECK OUT OUR OTHER EXCITING GAMES! ***
Atari's Greatest Hits and Centiped:Origins. Watch for our future apps at facebook.com/Atari
If you are experiencing any problems with Circus Atari, please email [email protected] so we can assist you.
Screenshots
Permission
Version 1.2.2 can access:
read phone status and identity
read phone status and identity
change screen orientation
power device on or off
prevent device from sleeping
read battery statistics
change your audio settings
full network access
view network connections
control vibration
Size: 22 MB
Version: 1.2.2
SPONSORED