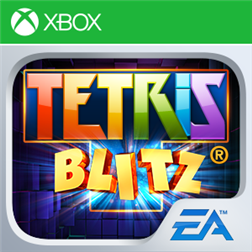 What's New in 1.3.1:
• NEW achievements and timed challenges
• Last chance Finisher
• NEW Power-Up friend unlock feature
• NEW Tips & Tricks page
• Exciting new Power-Ups
—
Race against the clock in a two-minute Tetris® Blitz to clear lines and rack up as many points as possible before time runs out! With all-new features, stunning visuals, and innovative controls, this twist on the world-famous Tetris game is a must-have on your Windows Phone.
SHATTER HIGH SCORES
Supercharge your game and trigger point-boosting reactions with Power-ups, like Magnet, Laser, and Time Shift. With a new Power-up released every week, the strategic combinations are endless!
FEEL THE FRENZY
Experience explosive effects and earn double points when you trigger the elusive Frenzy mode. Clear lines back-to-back to stay in Frenzy and get blown away by stunning cascades that keep the points rolling in.
SPONSORED

XBOX LIVE
Compete on the Xbox Live leaderboards and earn Xbox Live achievements. Tournaments reset every week – so there's always another chance for victory.
FINISHERS AND DAILY BLITZ
Watch your game end in a point-boosting, mind-blowing blast of visual fun with Finishers! You can also try to clear the board with the Bonus Blitz and score rewards like Coin packs, Power-up bundles, and more.
This app includes: In-game advertising, in-app purchases (consult bill payer before making any in-app purchases), and direct links to the Internet and social networking sites intended for an audience over 13. This app collects data through the use of third party ad serving as well as EA's and third party analytics technology. EA may retire online features and services after 30 days' notice posted on www.ea.com/1/service-updates.
Publisher
Electronic Arts
Content rating
3+
App requires
Xbox
phone identity
owner identity
video and still capture
location services
media playback
data services
movement and directional sensor
HD720P (720×1280)
WVGA (480×800)
WXGA (768×1280)
Supported languages (11)
DeutschEnglishespañolfrançaisitaliano日本語한국어NederlandsPortuguêsрусский中文
SPONSORED