txt-book – Turn Texts To Books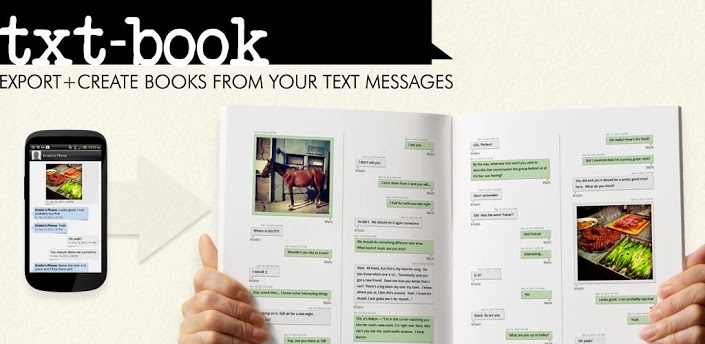 Description
Finally… txt-book app lets you convert text message conversations into an attractive and personalized storybook. Two unique PDF export styles: CONVERSATION or STORYBOOK. You can add a title, cover photo, nicknames, and back-cover note.Save it. Send it. File it. Print it. Keep for your records. Keep as a diary…or make it the perfect gift!
· Download the app for FREE and start creating your first txt-book
· Purchase and send one book for $0.99 or upgrade to the UNLIMITED package to create, edit and send as many books as you like for just $3.99
· Convert SMS and MMS texts
· Display large crisp photos
· Videos appear as enhanced thumbnails
· Select any date range ( TIP: 1 year of texts can be a hundred pages long. if you have many texts then create several shorter books as Volume 1, 2, 3…)
· Remove unwanted messages and photos
· Edit nicknames to personalize your txt-book
· Privacy Guaranteed – All books are created locally on your phone
· Your txt-book arrives as a PDF file via your own e-mail
· Create a book in as little as 30 seconds (if you have many texts/images it can take several minutes)
A txt-book is a perfect and easy gift for anniversaries, birthdays, graduations, Valentine's Day, long-distance relationships or just…because. Text message conversations chronicle our modern lives. With txt-book now you can preserve the jokes, fights and photos that we share every day.
Two Unique Export Styles:
CONVERSATION: Displays the texts and photos in bubbles similar to the way it appears on your phone. The date and time, if chosen, are displayed above each bubble as well as the speaker's name. Photos appear larger than they do in your text-message conversation.
STORYBOOK: Adds phrases to the beginning and end of text messages so that your text conversations look and read like a novel. Text messages are always shown in quotes, and words like, "replied Kristin" are added after a text message. Sentences are used to introduce a new day such as, "On July 4, 2013 Mark texted Kristin," so your txt-book flows like a story. Photos appear larger than they do in your text-message conversation.
You don't have to choose between one – if you get the UNLIMITED package, you can make as many books as you want.
Change the way names appear in your book. You may decide to change your Father's name to, "Dad." Or your boyfriend's name to, "Boo."
Your Cover Page features a photo that you select and a title that you create. The Back-Cover Note allows you to write a description that explains the book's meaning, or create a special message to the recipient such as, "To Kristin – I hope this book has a second volume. Please keep this to remind you of our first three months. Love, Mark." If you don't want a Title, Cover Photo or back-cover note then you can simply leave them out.
Txt-book was created so people can transform the conversations between friends, family and lovers into a book. Many people simply use txt-book to keep a personal record of easy-to-read volumes of their day-to-day conversations.
You can be the author of hundreds of txt-books…get started now.
SPONSORED

FAQs:
The app requires use of the phones memory to create the txt-book; if you receive an "out-of-memory" error then force-quit other applications to free up space for txt-book.
1 year of texts can be a hundred pages long. if you have many texts then create several shorter books as Volume 1, 2, 3…and so on so your books are easy to read, share and print. You may experience book-creation problems if you select a date range that is too long. It means your book is too long to create and you need to make book volumes.
App Screenshots
Permissions
THIS APPLICATION HAS ACCESS TO THE FOLLOWING:
YOUR MESSAGES

READ YOUR TEXT MESSAGES (SMS OR MMS)

Allows the app to read SMS messages stored on your device or SIM card. This allows the app to read all SMS messages, regardless of content or confidentiality.

NETWORK COMMUNICATION

FULL NETWORK ACCESS

Allows the app to create network sockets and use custom network protocols. The browser and other applications provide means to send data to the internet, so this permission is not required to send data to the internet.

YOUR PERSONAL INFORMATION

READ YOUR OWN CONTACT CARD

Allows the app to read personal profile information stored on your device, such as your name and contact information. This means the app can identify you and may send your profile information to others.

STORAGE

MODIFY OR DELETE THE CONTENTS OF YOUR USB STORAGE

Allows the app to write to the USB storage.

YOUR SOCIAL INFORMATION

READ YOUR CONTACTS

Allows the app to read data about your contacts stored on your device, including the frequency with which you've called, emailed, or communicated in other ways with specific individuals. This permission allows apps to save your contact data, and malicious apps may share contact data without your knowledge.
SYSTEM TOOLS

TEST ACCESS TO PROTECTED STORAGE

Allows the app to test a permission for USB storage that will be available on future devices.
VERSION:1.02
SIZE:7.4M
SPONSORED