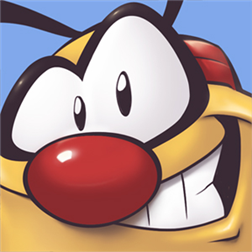 Description
Join Woody in Wake Woody Infinity, an awesome adventure for becoming the greatest wakeboarder in the world, available for FREE on the Windows Phone Store!
In Wake Woody Infinity you will play as Woody: jumping, spinning and diving into the water trying to perform great tricks in order to get the highest scores on this thrilling journey!
—
CHECK OUT THESE AWESOME FEATURES!
STUNNING GRAPHICS
An amazing piece of art, with highly detailed 2D graphics. IT'S STUNNING!
IMMERSIVE SOUND EFFECTS AND MUSIC
Incredible original compositions and sound effects! A narrator will keep your heart racing during the gameplay! This game is not only BEAUTIFUL but it also SOUNDS GREAT!
VARIOUS GAME ELEMENTS
A great variety of obstacles, ramps, platforms and lots of other elements that make Wake Woody Infinity a unique and fun experience! Go through the speed-boost rings, slide over the ramps and platforms, avoiding islands, boxes and other obstacles, so you can reach the checkpoint on time!
SPONSORED

CHALLENGING GAMEPLAY
Challenging gameplay will test your skills and punish you for your mistakes. The game is easy to pick up, but this action-packed title will keep you coming back for more!
AWESOME POWER-UPS
Collect incredible power-ups that help you reach the highest scores: use the TIME FREEZE to stop the clock, helping you reach a checkpoint on time! Double the amount of collected coins with the 2X COINS MULTIPLIER power-up and collect them more easily with the MAGNET, bringing them right to you!
UPGRADES
You can even upgrade all these power-ups via the in-game shop!
Get a nice advantage over your friends with the HEAD START item, allowing you to collect coins and perform tricks without hitting any obstacle! If you fail reaching the checkpoint or slid over a bomb, you can KEEP PLAYING with the help of CONTINUE!
RANKING AND CHALLENGES
Become the best of them all! Do your best tricks to score higher and get in the leader boards. Compete in global, all-time, monthly and weekly leader boards! Connect with your Facebook account and compare your high scores with those of your friends. You can even challenge them directly! Show them who is the GREATEST WAKEBOARDER IN THE WORLD!
UPDATES
Through regular updates, we'll keep the game fresh and up to YOUR standards! We love feedback and will certainly take into account the opinion of our beloved fans when planning new features.
——————————————————————————————————–
Hey, PARENTS!
Wake Woody Infinity is FREE TO PLAY! During gameplay it's possible to collect coins that allow the player to buy upgrades and other items in the game shop. However, it is possible to buy coin packs with real money in order to speed up this process, but then again, these are completely optional. This game can be played in its entirety at no additional cost.
—
Privacy Policy
http://wakewoody.com/privacypolicy.html
Screenshots
Info
Works with
Windows Phone 8.1
Windows Phone 8
App requires
phone identity
owner identity
music library
media playback
data services
push notification service
movement and directional sensor
web browser component
HD720P (720×1280)
WVGA (480×800)
WXGA (768×1280)
SPONSORED