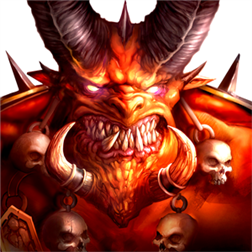 Description
Venture forth into the most immersive, accomplished, and addictive chapter of the acclaimed action RPG saga!
SPONSORED

***** REDISCOVER THE THRILL OF DUNGEON CRAWLING
– Progress through an EPIC STORYLINE & stunning environments
– SLASH hundreds of enemies and massive bosses
– LOOT countless items
***** EXPERIENCE A TRUE RPG
– Choose from 4 Character Classes with unique combat styles
– UPGRADE your battle skills
– CUSTOMIZE, craft and charm your gear
– Unveil the mysteries surrounding your warrior
***** GO FOR MULTIPLAYER ACTION
– Enter Co-op arenas for highly intense fights
– Show off your battle skills in the PvP modes!
The Demons, a race thought to have been extinguished eons ago, have returned. You awaken from what seemed like a nightmare to find your kingdom, Valenthia, decimated. Unharmed from the battle, you are mysteriously gifted with tremendous new power and skills. You could be your people's only remaining hope…
_____________________________________________
Visit our official site at http://www.gameloft.com
Follow us on Twitter at http://glft.co/GameloftonTwitter or like us on Facebook at http://facebook.com/Gameloft to get more info about all our free upcoming games.
Check out our videos and game trailers on http://www.youtube.com/Gameloft
Discover our blog at http://glft.co/Gameloft_Official_Blog for the inside scoop on everything Gameloft.
_____________________________________________
This app allows you to purchase virtual items within the app and may contain third-party advertisements that may redirect you to a third-party site.
Terms of use: http://www.gameloft.com/conditions/
Screenshots
Info
Download size
947 MB
App requires
phone identity
media playback
microphone
data services
movement and directional sensor
HD720P (720×1280)
WVGA (480×800)
WXGA (768×1280)
Supported languages (11)
DeutschEnglish (United States)Español (España, alfabetización internacional)françaisitaliano日本語한국어português (Brasil)русскийTürkçe中文(简体)
SPONSORED