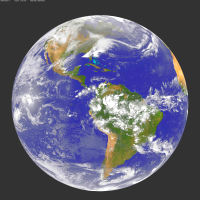 Description
Weather Satellite provides the most up to date weather images for clouds and wind taken from orbiting satellites.
U.S. high-lows, temperatures, warnings, water, and hurricanes. Atlantic turbulence east and west bound.
SPONSORED

Areas shown include:
* Africa
* Antarctica
* Asia
* Australia
* Europe
* India
* Middle East
* North America
* South America
Zoom feature allows you to zoom in closer and move the image around.
Screenshots
Info
Download size
< 1 MB
Works with
Windows Phone 8
Windows Phone 7.5
Windows Phone 7
App requires
owner identity
data services
phone dialer
web browser component
WVGA (480×800)
photo, music, and video libraries
HD720P (720×1280)
WXGA (768×1280)
SPONSORED