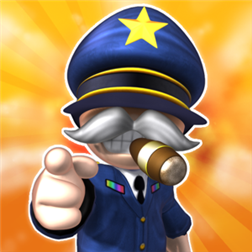 SPONSORED

Description
Taking military "advice" from the ridiculous generalissimo, can you battle your way through this truly massive, content-packed military campaign?
Plan your mission, deploy your "forces", try not to fall off the sofa laughing!
"An essential download for any strategy fan" – Gamers Temple
"A deep and rewarding experience" – Game Dynamo
You've plenty of units to play with, covering land, sea and airborne combat. Be warned though, these funny cartoon troops are not exactly "the right stuff"!
"It's simply an amazing turn-based strategy game" – Touch Arcade
"It's the real deal" – Slide To Play
"This is a wonderful game, accessible yet challenging" – Gamezebo
40+ hours of campaign mode not enough? There is also unlimited skirmish play vs the AI for quick fixes, on a wide variety of custom maps.
And there's still more – Multiplayer. You can Pass & Play on a single device, or join our thriving online community, playing head to head at a pace that suits you.
"This game plays beautifully and looks fantastic" – App Advice
"Not downloading it is damn near criminal" – MoDojo
"Just buy it, plain and simple" – IGN
Main Features:
✓ 50 Mission single player campaign
✓ Online asynchronous multiplayer
✓ Pass n Play & Skirmish vs AI
✓ Achievements to unlock
✓ Stunning visuals
✓ Simple, intuitive control method
✓ Tons of humor
✓ No birds were harmed (or made angry) during development!
Screenshots
Info
Publisher
Rubicon Mobile, Ltd.
SPONSORED