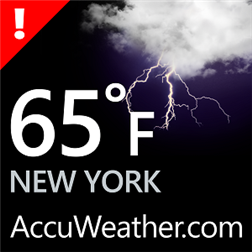 Description
Every day, more than one billion people around the world rely on the Superior Accuracy™ of AccuWeather to help them plan their lives, protect their businesses, and get more from their day. The AccuWeather for Windows Phone weather app has the very latest in weather news and information, including current, hourly, and extended forecasts plus severe weather alerts and radar maps. Our forecasts are also easily seen from your Windows Phone 8 lock screen!
Key features of AccuWeather include:
• Accurate, local forecasts for nearly 3 million global locations in 27 languages. Forecasts include current conditions, hourly forecasts for the next 72 hours, and extended forecasts for the next 15 days.
• The Local Forecast Summary, a brief summary of what you can expect from the weather over the next 3-5 days for your location.
• Severe weather notices for all locations – visible from anywhere within the app.
• Fully interactive, full-screen Bing Maps overlaid with AccuWeather's precise weather data, including U.S., Canadian, European, and Japanese radar.
• Current weather conditions displayed with location name and time, temperature, wind speed, wind gust speed and wind direction, precipitation and amounts, humidity, visibility, UV Index, cloud cover, pressure, and AM and PM times for sunrise and sunset.
• Unlimited location storage for your GPS location and all your favorites. Nickname your locations and easily swipe between them using the panoramic view and by saving them to your Start screen.
SPONSORED

• Windows Phone 8 users: Populate your phone's lock screen with a snapshot of the weather forecast for your home location including severe weather alerts and a beautiful weather image.
• Also for Windows Phone 8 users: Three-Size, customizable Live Tiles for multiple locations that peek and automatically update the forecasts on the Start screen.
Download AccuWeather for your Windows Phone today for free!
Screenshots
Info
Download size
9 MB
Works with
Windows Phone 8
Windows Phone 7.5
App requires
phone identity
owner identity
location services
maps
media playback
data services
push notification service
movement and directional sensor
HD720P (720×1280)
WVGA (480×800)
WXGA (768×1280)
photo, music, and video libraries
Supported languages (30)
češtinadanskDeutschΕλληνικάEnglishEnglish (United States)españolEspañol (España, alfabetización internacional)español (México)suomifrançaismagyaritaliano日本語한국어norsk (bokmål)NederlandspolskiPortuguêsportuguês (Brasil)românăрусскийslovenčinaslovenskisvenskaTürkçeукраїнська中文中文(简体)中文(繁體)
SPONSORED