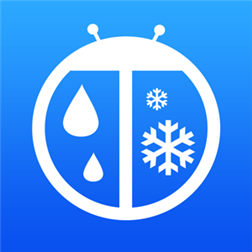 Description
New to the Windows 8 Phone platform, download WeatherBug to Know Before™. Access the world's largest network of real-time weather and lightning sensors for the best forecasts and the fastest alerts. Stay safer with WeatherBug!
SPONSORED

Enjoy user-submitted photos, exclusive live weather cams, rich radar maps and much more. No wonder we were awarded "Best App Ever"! Download WeatherBug and see for yourself!
Know Before™ with these unique features:
• Real-Time Enhanced Pin-Point Forecasts for 2.6 Million Locations Worldwide – The industry's most accurate current, extended and hourly weather forecasts for your neighborhood and beyond. With 25% more accurate forecasts for the next 24 hours (when compared to other weather apps), Know Before™ you head out!
• Extended 10-Day Forecast – Weather happens. Get the most accurate extended forecast and Know Before™ 10 days ahead.
• Exclusive DTAs & Severe Weather Alerts – Minutes Matter. Our Dangerous Thunderstorm Alerts (DTAs) provide you 50% faster warnings to severe weather than the competition. Plus, you get National Weather Service (NWS) warnings and watches to stay informed of severe weather conditions at all your current and saved locations.
• Spark Alerts – Spark, an exclusive feature of WeatherBug, turns your smartphone into a personal lightning detector. Get minute-by-minute, mile-by-mile Spark lightning monitoring, in real-time, from the WeatherBug total lightning detection network!
• Enhanced Interactive Maps – Enjoy our enhanced maps with multiple layers such as Doppler radar, humidity, pressure, wind speed, high/low forecast, satellite imaging and more!
• Live Weather Cams – View live images from over 2,000 weather cameras across the U.S. to get a better picture (pun intended) of the weather at destinations near and far.
…and more!
Be prepared. Know Before™. Download the app used and loved by millions, voted the "Best Weather App Ever" and trusted as a "Best App for Moms", WeatherBug!
Screenshots
Info
Publisher
WeatherBug
Works with
Windows Phone 8
Windows Phone 7.5
App requires
phone identity
location services
data services
push notification service
HD720P (720×1280)
WVGA (480×800)
WXGA (768×1280)
owner identity
maps
media playback
movement and directional sensor
Supported languages (2)
EnglishEnglish (United States)
SPONSORED