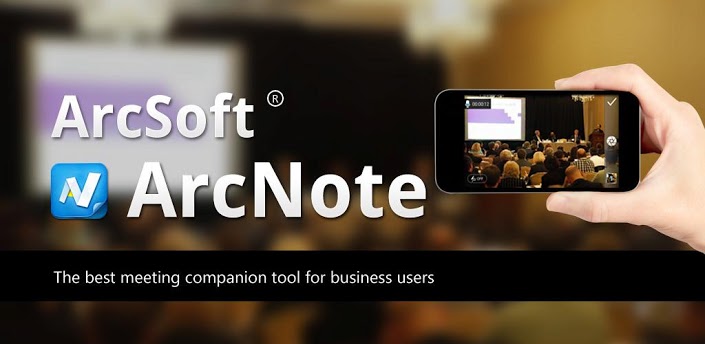 Description
The easiest way to take perfect notes with your Android phone camera. Whether grabbing content from a whiteboard, slide projection, poster or brochure, ArcNote will automatically crop and correct skewed presentations into nice visual notes. No more jotting down messy notes. No more missing important details. Save your time. Free up your hands. All you need to do is take a snapshot and let the app do the rest. Instantly share your notes with colleagues and friends.Key Features:
•Produce high quality images from projected, written or printed notes
– Excellent quality in indoor and low-light conditions
– Store and manage all notes and share them in a PDF file
• Automatically detect and crop out note region from image
– Include text comments on each note page
– Record and add voice annotation to a note group
•Correct skewed captures
– Adjusts to straight viewing angle automatically
•Share easily
– Share directly to Facebook, Twitter and Flickr
SPONSORED

App Screenshots
Videos
What's New
What's in this version:
Current Version:
*Bug fixes and minor adjustments
Previous Version:
*Removed permissions that are no longer used
*Fixed issues reported by users
*Adjusted UI layout for various new device models
Permissions
THIS APPLICATION HAS ACCESS TO THE FOLLOWING:
YOUR LOCATION

PRECISE LOCATION (GPS AND NETWORK-BASED)

Allows the app to get your precise location using the Global Positioning System (GPS) or network location sources such as cell towers and Wi-Fi. These location services must be turned on and available to your device for the app to use them. Apps may use this to determine where you are, and may consume additional battery power.

NETWORK COMMUNICATION

FULL NETWORK ACCESS

Allows the app to create network sockets and use custom network protocols. The browser and other applications provide means to send data to the internet, so this permission is not required to send data to the internet.

STORAGE

MODIFY OR DELETE THE CONTENTS OF YOUR USB STORAGE

Allows the app to write to the USB storage.

CAMERA

TAKE PICTURES AND VIDEOS

Allows the app to take pictures and videos with the camera. This permission allows the app to use the camera at any time without your confirmation.

MICROPHONE

RECORD AUDIO

record audio
NETWORK COMMUNICATION

VIEW NETWORK CONNECTIONS

Allows the app to view information about network connections such as which networks exist and are connected.

SYSTEM TOOLS

TEST ACCESS TO PROTECTED STORAGE

Allows the app to test a permission for USB storage that will be available on future devices.
VERSION:1.5.0.27
SIZE:11M
SPONSORED