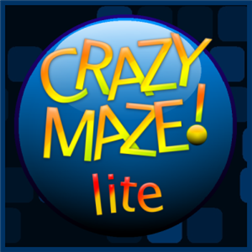 Description
Crazy Maze is a funny and challenging game where you will test your skills by driving a ball throughout 54 original levels!
SPONSORED

The score you get in each level will give you a gold, silver, bronze or honor award, enabling you to unlock levels ahead.
Across the levels, there are cool themes and plenty of features for you to discover, including:
– Keys that open doors enabling you access to new paths
– Travel faster with instant speed boosters
– Enhance your score by picking green points and avoiding the red ones
– Narrow passages that can only be overcome after you minimize the ball
– Holes that send you to the last activated checkpoint
– A lot of force zones with cool effects
– Reach new areas by traveling through teleports
– … and more!
In this Lite version, you can play 18 levels for free.
Are you ready to play?
Screenshots
Info
Works with
Windows Phone 8.1
Windows Phone 8
Windows Phone 7.5
App requires
phone identity
owner identity
location services
photo, music, and video libraries
data services
phone dialer
movement and directional sensor
web browser component
HD720P (720×1280)
WVGA (480×800)
WXGA (768×1280)
SPONSORED