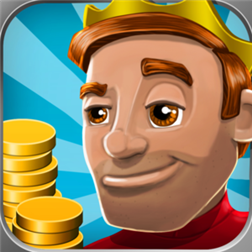 Description
Features:
PLAY OFFLINE! No Internet connection required.
Level up your castle and unlock new secret blueprints.
Build your kingdom up from a tiny hamlet to a sprawling capital city.
Play the Wheel of Mediocrity! Exciting quests await you!
Make your village wealthy, mine for gold and coal.
Forge the strongest swords, the most powerful weapons to fight dragons and find many hidden treasures.
Expand and protect your kingdom, equip your army, care for your kingdom and make your lords happy by discovering blueprints, enrich your empire with treasures, money, gold, silver, coin and crops.
Enjoy this Fun Medieval Simulation Game
"Download Cloud Castle Now! " It's FREE!
Build and decorate your very own sim city and collect medieval fighting defense weapons to landmark Cloud Castle.
Create towers to defend your castle from enemies and watch your population of settlers skyrocket as you build and uncover secret blueprints in Cloud Castle city story.
No more mystery in the clouds, uncover mystery treasure chests, collect all hidden objects and expand Cloud Castle to the greatest kingdom in all the lands.
SPONSORED

Go out there & make your village people happy! Forget about building hotels, cinemas, offices, bakeries, restaurants, animal parks, schools, libraries, museums, amusement parks and get ready for a hardcore medieval building game in Castle Island. Rule your knights and dragon empire!
CLAIM YOUR FAME
In Cloud Castle, you must rebuild your castle after Lord Malicious destroyed it. Start new and work towards building the greatest kingdom in all the lands! Build forges and factories to create swords, armor, jewelry, furniture, and more to amass riches and gold! Discover new blueprints to create new types of items!
"Download Cloud Castle Now! " It's FREE!
Screenshots
Info
Download size
11 MB
App requires
media playback
data services
movement and directional sensor
HD720P (720×1280)
WVGA (480×800)
WXGA (768×1280)
SPONSORED