Description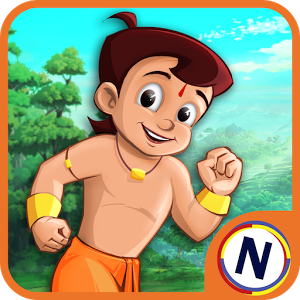 ** Hey look who all have come to join Bheem. Yipee!! Its Raju, Chhutki and Jaggu **
Now play your favourite Jungle Run game along with Bheem and his friends.Chhota Bheem, India's superhero is back in action.
He is far far away from Dholakpur and the road back to the village is through a dense Jungle.Unlike any other jungle, this is very wicked and filled with weird creatures.
Bheem has to save himself by avoiding all of them. Witches and mummies will try to hurt you. Jungle environment is also not all friendly and is filled with huge stones, bad bees and deadly snakes.
But Bheem is macho kid and Now, you are there to help him and let him reach his home faster. You have to guide bheem to run, slide and fly.
Guide your superhero to overcome obstacles and avoid enemies.
Laddoos are your saviour. Collect them as much as you can.
Laddoos give Chhota Bheem energy to run more.And this is not all, now you can play as Bheem and race with others. Ever wished to become Bheem yourself, this is just the right time. Isn't this very exciting. So…..Get-Set-Run.
Features:
Endless Runner with great graphics and fun animations.
Exciting Powerups and upgrades
Avoid Bad-guys and Jungle animals.
Controls :
Touch the screen anywhere to jump and Hold to Fly.
Tap to jump
****HINDI****
SPONSORED

लौट आया है छोटा भीम, अपना प्यारा SUPERHERO
भीम ढोलकपुर से बहुत दूर है और अपने गावं पहुँचने के लिए उसे घने जंगल से गुजरना है।
यह जंगल बहुत ही डरावना है और अजीब है।
आपको भीम बनकर उसे अपनी मंज़िल की तरफ ले जाना है।
रंगडा, मम्मी और डाकू मंगल सिंग आपको चोट पहुंचा सकते हैं। बड़े पत्थर , जहरीले सर्प और ढेर सारी मधु मक्खियाँ आपको परेशान करेंगे और आपका रास्ता रोकेंगे।
भीम को इन दुश्मनो से बचाकर आपके बहुत दूर ले जाना है
लड्डू को लेना ना भूले। लड्डू से आपको अपनी शक्ति फिर से मिल सकती है।
Screenshots
What's New
Minor Bug fixes.
Permission
Version 1.28.5 can access:
find accounts on the device
add or modify calendar events and send email to guests without owners' knowledge
find accounts on the device
precise location (GPS and network-based)
approximate location (network-based)
read phone status and identity
read the contents of your USB storage
modify or delete the contents of your USB storage
read the contents of your USB storage
modify or delete the contents of your USB storage
read phone status and identity
receive data from Internet
use accounts on the device
full network access
view network connections
control vibration
prevent device from sleeping
Size: 9 MB
Version:1.27
SPONSORED