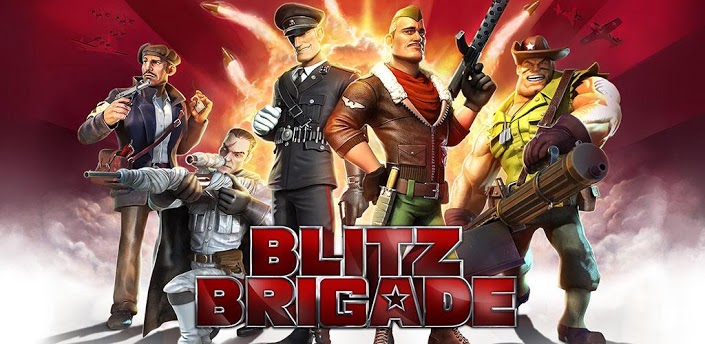 Description
You ready for multiplayer action? Axis or Allies, victory or defeat, mayo or mustard… All will be decided in the ultimate FPS showdown, Blitz Brigade!
Become one of five highly skilled and totally badass classes and team up with other players to pound your enemies into the dirt and call them mean names.
Finally, a true class-based multiplayer FPS game comes to Android!★★★★★Lock 'n' load for team-based FPS action!★★★★★
GIVE AN ONLINE BEATDOWN!
✓Up to 12 players can battle online in multiplayer games
✓5 classes: Soldier, Gunner, Medic, Sniper, Stealth
✓Control the battlefield in Domination mode
✓Frag everyone from the opposing army in Deathmatch games
✓Use 3 different vehicles for a tactical advantage in battle
✓Fight with over 100 weapons, each made for a specific class
✓Unique taunts and kill phrases for each character in the game
✓Voice Chat to create your game plan in the heat of the action
HONE YOUR KILLER SKILLS IN TRAINING MISSIONS
✓Complete 120 unique action-packed missions
✓Learn to master each class's specialized battle skills
✓Pilot a Helicopter and rain death from above
✓Hop into a Tank to steamroll the enemy army
★★★★★War games just got a whole lot crazier! ★★★★★
For fans of free online action games, class-based multiplayer shooters, first-person shooters, army/war games, or anyone who enjoys a good online fight.
Enter the battlefield, get ready for the war, and enjoy hours of fun!
SPONSORED

Minimum hardware requirements to play Blitz Brigade:
– 1 Ghz CPU
– 512 Mb RAM
– PowerVR SGX540 GPU or equivalent
– 1.4 GB of available memory
For optimal performance, we recommend restarting your device and closing other applications before playing Blitz Brigade.
—-
Visit our official site at http://www.gameloft.com
Follow us on Twitter at http://glft.co/GameloftonTwitter or like us on Facebook athttp://facebook.com/Gameloft to get more info about all our upcoming titles.
Check out our videos and game trailers on http://www.youtube.com/Gameloft
Discover our blog at http://glft.co/Gameloft_Official_Blog for the inside scoop on everything Gameloft.
App Screenshots
Videos
What's New
What's in this version:
Improved connectivity and numerous bug fixes — now you have no excuse not to join the Brigade!
Permissions
THIS APPLICATION HAS ACCESS TO THE FOLLOWING:
NETWORK COMMUNICATION

FULL NETWORK ACCESS

Allows the app to create network sockets and use custom network protocols. The browser and other applications provide means to send data to the internet, so this permission is not required to send data to the internet.

PHONE CALLS

READ PHONE STATUS AND IDENTITY

Allows the app to access the phone features of the device. This permission allows the app to determine the phone number and device IDs, whether a call is active, and the remote number connected by a call.

STORAGE

MODIFY OR DELETE THE CONTENTS OF YOUR USB STORAGE

Allows the app to write to the USB storage.

MICROPHONE

RECORD AUDIO

record audio
NETWORK COMMUNICATION

GOOGLE PLAY LICENSE CHECK

Google Play license check

VIEW WI-FI CONNECTIONS

Allows the app to view information about Wi-Fi networking, such as whether Wi-Fi is enabled and name of connected Wi-Fi devices.

VIEW NETWORK CONNECTIONS

Allows the app to view information about network connections such as which networks exist and are connected.

RECEIVE DATA FROM INTERNET

Allows apps to accept cloud to device messages sent by the app's service. Using this service will incur data usage. Malicious apps could cause excess data usage.

SYSTEM TOOLS

TEST ACCESS TO PROTECTED STORAGE

Allows the app to test a permission for USB storage that will be available on future devices.

AFFECTS BATTERY

PREVENT DEVICE FROM SLEEPING

Allows the app to prevent the device from going to sleep.

CONTROL VIBRATION

Allows the app to control the vibrator.

YOUR APPLICATIONS INFORMATION

RUN AT STARTUP

Allows the app to have itself started as soon as the system has finished booting. This can make it take longer to start the device and allow the app to slow down the overall device by always running.

AUDIO SETTINGS

CHANGE YOUR AUDIO SETTINGS

Allows the app to modify global audio settings such as volume and which speaker is used for output.
VERSION:1.0.2
Size: 12M
SPONSORED