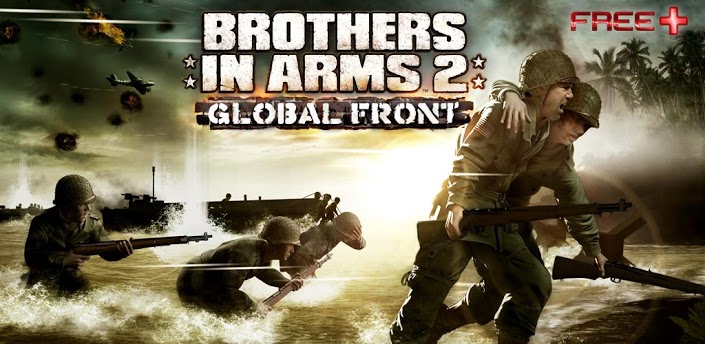 SPONSORED

Description
Now you can play the highly acclaimed Brothers in Arms series for FREE! Prepare to step onto the most intense and explosive battlefields of WWII.*******************************************************PLAY FOR FREE
Download the game and start playing for free in Story mode or Multiplayer. Earn Dog Tags and XP as you play that can be used to unlock tons of extra features and gear to customize your soldier, or purchase Medals to unlock them faster. It's up to you!
JOIN YOUR ALLIES ONLINE
Challenge up to 5 friends to multiplayer battles on five maps in 3 different modes (Free For All, Team Deathmatch and Domination). You can connect locally via Bluetooth or even go online with Wi-Fi to battle friends anywhere.
A FIGHT ACROSS THE GLOBE
Experience every front of the war with 50 missions to unlock across 5 locations: the Pacific, Normandy, North Africa, Germany and Sicily.
WAR MACHINES
Take control of 3 different vehicles including the tank, off-road vehicle or glider to overrun your opponents or to make a daring escape. You can even jump behind the vehicle turret to lay waste to foes with the machine gun.
THE BATTLE COMES TO LIFE
The stunning graphics and authentic settings are inspired by real-life battlefields from WWII and created in detailed 3D.
AN EPIC EXPERIENCE
Witness compelling cinematic moments with more interaction between you and your squad members that deepens the gameplay.
AN ARSENAL AT YOUR DISPOSAL
Grab a wide variety of historically accurate weapons including machine guns, bazookas, sniper rifles and flamethrowers.
*******************************************************
Visit our homepage at www.gameloft.com.
Check out our videos and game trailers on www.youtube.com/gameloft.
Discover our blog at http://blog.gameloft.com/ for the inside scoop on everything Gameloft.
App Screenshots
Videos
What's New
What's in this version:
The flames of war are heating up in this new, explosive update for Brothers in Arms 2!
– New Weapon: Incendiary Grenades
– Bigger Grenade Packs that cost even less
– New Customer Support button for easy access to help
– Various bug fixes and technical optimizations
Keep fighting the good fight, and thank you for keeping those 5-Star reviews coming!
Permissions
THIS APPLICATION HAS ACCESS TO THE FOLLOWING:
YOUR MESSAGES

EDIT YOUR TEXT MESSAGES (SMS OR MMS)

Allows the app to write to SMS messages stored on your device or SIM card. Malicious apps may delete your messages.

READ YOUR TEXT MESSAGES (SMS OR MMS)

Allows the app to read SMS messages stored on your device or SIM card. This allows the app to read all SMS messages, regardless of content or confidentiality.

NETWORK COMMUNICATION

FULL NETWORK ACCESS

Allows the app to create network sockets and use custom network protocols. The browser and other applications provide means to send data to the internet, so this permission is not required to send data to the internet.

CONNECT AND DISCONNECT FROM WI-FI

Allows the app to connect to and disconnect from Wi-Fi access points and to make changes to device configuration for Wi-Fi networks.

PHONE CALLS

READ PHONE STATUS AND IDENTITY

Allows the app to access the phone features of the device. This permission allows the app to determine the phone number and device IDs, whether a call is active, and the remote number connected by a call.

STORAGE

MODIFY OR DELETE THE CONTENTS OF YOUR USB STORAGE

Allows the app to write to the USB storage.
NETWORK COMMUNICATION

VIEW NETWORK CONNECTIONS

Allows the app to view information about network connections such as which networks exist and are connected.

VIEW WI-FI CONNECTIONS

Allows the app to view information about Wi-Fi networking, such as whether Wi-Fi is enabled and name of connected Wi-Fi devices.

CHANGE NETWORK CONNECTIVITY

Allows the app to change the state of network connectivity.

RECEIVE DATA FROM INTERNET

Allows apps to accept cloud to device messages sent by the app's service. Using this service will incur data usage. Malicious apps could cause excess data usage.

SYSTEM TOOLS

TEST ACCESS TO PROTECTED STORAGE

Allows the app to test a permission for USB storage that will be available on future devices.

AFFECTS BATTERY

CONTROL VIBRATION

Allows the app to control the vibrator.

PREVENT DEVICE FROM SLEEPING

Allows the app to prevent the device from going to sleep.
VERSION:1.1.8
SIZE:2.9M
SPONSORED