Description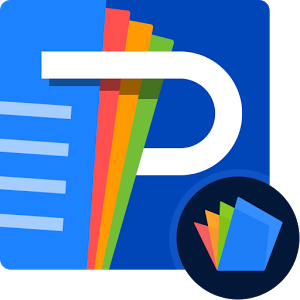 he best office app loved by 40 million users worldwide.
"Editors' Choice", "2015 Best App"
, and
"Top Developer"
awarded by Google Play.Polaris Office + PDF is a free office app with all-in-one feature to view, edit, share, memo and archive all types of documents anytime and anywhere.
All document formats and clouds with a single app
* View and edit all document types with the highest level of compatibility: Microsoft Office Word, Powerpoint, Excel, Google Docs, Spreadsheet, Slide, TXT, ODF, and Adobe PDF.
* Access and save back to your preferred cloud storage such as Google Drive, Dropbox, Box, OneDrive, and others.
Powerful PDF reader, editor and converter
* View PDF on your mobile device anytime
* Make and annotate important notes on PDF
* Convert document to PDF on your smartphone or tablet
SPONSORED

Smallest in size, yet powerful features
* Enjoy powerful editing features including PDF annotation, memo, note taking, and cloud based file management with a smallest app!
Make your most impressive presentation
* Have more impressive presentation with pen and pointer features
* Use Google Chromecast feature for presentation
Save time with easy access to your document
* All documents are automatically synced to cloud for faster, easier way to access them anytime you wish
* Access your recent and shared document with one tap
Share your document
* Share your document via link, email, instant messaging, Facebook, Twitter and more
* View up-to-date document with shared link
* Leave comments within the document and discuss ideas with others
Take a note with handwriting
* Write your ideas and take a note on all types of documents as easily as writing on a paper
Search for all your documents
* Search for all your documents with filename, text within a document, and more options
* Provide variety of sorting options to find a document easily
Documents & data are safe
* All your documents and data are highly encrypted.
* Protect your documents with app passcode
Concentrate on reaching your goals
* Write your resume, lecture notes, meeting reports, budget planners, etc in a variety of templates.
Features in details :
* Supported Formats : doc docx / xls xlsx / ppt pptx / pdf / txt / odf
* Export to PDF and Memo
* Automatic sync of all documents via Polaris Drive
* Download and edit files from other cloud services (Google Drive / Dropbox / Box / OneDrive / Amazon Cloud Drive / uCloud and WebDAV clouds)
* Archive important documents separately
* Search document titles and body content
* Add and edit header/ footer/ endnote and footnote
* Ruler available
* Various spreadsheet functions with over 300 formulas for Arithmetic/ Finance/ Date/time/ Statistical/ Database/ Look up and more
* 24 different templates / 20 2D/3D charts / 173 different shapes
* 37 slide transition effects
* Camera mode that can be used to take pictures and applied to the document / Insert and play video clips / Directly open zip files
Supported Languages :
English / French / German / Spanish / Korean / Japanese / Russian / Simplified Chinese / Traditional Chinese / Italian / Portuguese / Hebrew / Arabic / Polish
Screenshots
What's New
v7.2.6
– Supports Polish
– Other customer review & inquiry issues has been fixed.
Permission
Version 7.2.6 can access:
find accounts on the device
add or remove accounts
find accounts on the device
modify or delete the contents of your USB storage
read the contents of your USB storage
modify or delete the contents of your USB storage
read the contents of your USB storage
receive data from Internet
manage users
prevent device from sleeping
full network access
use accounts on the device
control vibration
access Bluetooth settings
pair with Bluetooth devices
connect and disconnect from Wi-Fi
view network connections
create accounts and set passwords
Size: 48 MB
Version:7.2.5
SPONSORED