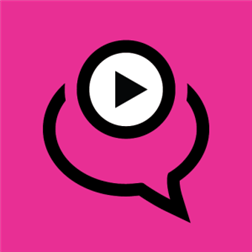 Description
Send hilarious looping videos like texts. GIF Chat is the first messenger app on Windows Phone that combines animated GIFs with texting. Quickly record videos, add captions and swap them privately with your friends. You determine how many times they can be viewed before they disappear forever. It's the first app on Windows Phone from Pinger, makers of the #1 free texting and calling app, Textfree.
TEXTING + ANIMATED GIFS = TEXTASY
Live to text? Wish you could easily share videos with your friends? GIF Chat allows you to chat privately with your friends all over the world using a mash-up of animated GIF videos and texting.
PRIVATE VIDEO MESSAGES THAT ARE REALLY PRIVATE
Want to communicate something that you don't want to post to a social network? Or forwarded to anyone else? GIF Chat allows you to swap private video messages that can only be seen by the receiver. GIF Chat videos can loop forever or disappear when you want them to.
MAKE YOUR GIFS SELF-DESTRUCT
You determine how many times someone can see your GIF video. Set the number of loops and after that… poof, it's gone! Not shy about sharing it? You can allow it to loop forever.
SPONSORED

WHAT'S A GIF?
GIFs are 6-second compressed videos that loop over and over. They're also known as animated GIFs. Not sure how to pronounce it? We say GIF with a soft G, like "jif," but if you prefer the hard G of "great," that's cool, too. They're hilarious either way.
NEVER CREATED A GIF? GIF CHAT MAKES IT EASY
GIF Chat makes creating and sharing GIFs super easy. Just open the app, tap to start recording (selfie or forward-facing camera), set the loop speed and the number of loops and the app turns it into an animated GIF. Add text and then send it privately to a friend just like a text message.
REALLY IMPORTANT STUFF
• Your friends need GIF Chat on their device to view the GIFs you send them
• GIF Chat is ad-supported
CONNECT WITH US
• facebook.com/gifchat
• twitter.com/gifchatapp
Screenshots
Info
Download size
8 MB
App requires
contacts
phone identity
owner identity
video and still capture
media playback
microphone
data services
push notification service
movement and directional sensor
HD720P (720×1280)
WVGA (480×800)
WXGA (768×1280)
SPONSORED
More Free Games & Apps Downloads:
Saurav Saha
A simple college guy, a complete "Gamoholic" for any kind of games from pc to smartphones...Love to hang out with friends & family and a tech savvy.