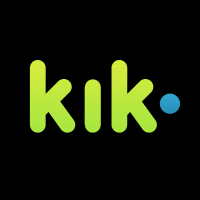 14 million users love Kik! It's the fast, simple, and personal smartphone messenger that connects you to everyone you love to talk to.
Here's why you'll love Kik:
FAST: Kik is hands-down the fastest, most reliable smartphone messenger available. And with sent, delivered, read and typing notifications, your conversations will come to life.
SIMPLE: We believe that simplicity is the ultimate in sophistication. We've spent thousands of hours making sure Kik is the easiest, most beautiful way to send messages and pictures.
PERSONAL: Your Kik username – not your phone number – is your Kik Identity, so you can keep complete control of your privacy. No wonder Kik is the number one way people connect in other social apps like Instagram, SocialCam, and Viddy.
Here's what our users have to say:
– Amazing app! And so, so fast. Katie, UK
– The best way to keep your personal information private.
– SOOO much better than WhatsApp! Loli, App Store review
Screenshot
Info
Publisher
Kik Interactive, Inc.
Works with
Windows Phone 8
Windows Phone 7.5
Windows Phone 7
App

requires
contacts

phone

identity

photo

, music, and video libraries

data

services

push

notification service

camera

HD720P (720×1280)
WVGA (480×800)
WXGA (768×1280)
Supported languages (2)
EnglishEnglish
(United States)
SPONSORED
More Free Games & Apps Downloads: