Etherlords Heroes and Dragons
Description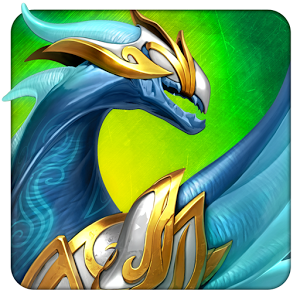 Immerse yourself in Etherlords, a marvelous fantasy universe where the Vitals, Kinets, and Chaots are locked in a deadly confrontation for the world's most vital and important resource. Crush your enemies, collect and evolve your creatures, and discover new strategies to dominate in PvP battles and daily tournaments.Features:
– Intense dynamic battles with outstanding animations and visual effects
– More than 200 creatures and heroes to fight under your command
– Huge number of upgrades — evolve and fuse your creatures in the Sky Lab
– Daily PvP tournaments – storm the ladder and win the Grand Prize
– Epic Bosses with unique abilities and challenging counter-strategies
– Seasonal and daily events featuring exclusive gameplay and unique enemies
Etherlords is free to play and you can have any in-game items for free, however some of the items can also be bought with real money. Have a great time!
STORY
The worlds have been ruined by the great cataclysm and now suffer under the reign of the Goddess of Chaos. Your mission is to recreate the worlds and bring peace and happiness to them. Each world is claimed by a unique Boss, and you must defeat them one by one to complete your campaign.
Hint: adjust your strategy for each Boss to counter his unique abilities.
CREATURES
Your army is extremely valuable. More than 200 monsters to tame, from Wolves to Dragons, the Witchdoctor to the Scorpion King, Manticores, Gryphons, and even the Colossus! Fill your glorious army with rare, superior, and even legendary allies and lead them off to fight your enemies.
Hint: Use a Birth Rune to get more creatures from missions.
UPGRADE
Level up your army by merging troops. Pick your best warrior and feed him troops, who will sacrifice themselves to upgrade the chosen one. Each level will cost ether. Don't forget to enhance your warrior with the world you just created—this will gain you a passive buff that helps in battle.
Hint: add friends to increase your chances to get an Excellent Fusion.
SPONSORED

STRATEGY
Even if your enemy has a much stronger army, there are lots of strategies that can win you a battle. Before the battle starts, choose warriors from your collection that help you counter your opponent's abilities. Use the Glyph that appears to increase your damage. And the Wrath Crystal is a massive help even in the most tense confrontations. The only limit is your imagination!
PvP
Battle your opponents in the Arena to climb your way to the top! Compete for the highest score to get ether and exceptional Arena Boosters in the PvP Tournament. Join the brawl to test your might and strategy!
EVENTS
Challenges await you every day—Dragon Madness, Alone with the Wolves, Inferno, Gryphon Hunt—and these are just a few of the events that help you get additional ether and add unique creatures to your collection.
Hint: look for the schedule on our Facebook page.
GRAPHICS
This game is built on the Unity engine, so you'll love our adventurous 3D fantasy universe featuring battles with exceptional visual effects, HD graphics, and great camera work. Etherlords was showcased by Nvidia and Unity and was nominated for outstanding graphics.
Screenshots
What's New
– Stability improvements
– Minor bugfixes
If you have feedback or any problems with update please drop us a line at: http://bit.ly/1GpnOE0″
Permission
Version 1.5.2.39933 can access:
find accounts on the device
find accounts on the device
read phone status and identity
modify or delete the contents of your USB storage
read the contents of your USB storage
modify or delete the contents of your USB storage
read the contents of your USB storage
read phone status and identity
full license to interact across users
receive data from Internet
full network access
view network connections
prevent device from sleeping
run at startup
control vibration
set an alarm
Google Play license check
Size: 18 MB
Version: 1.5.2.39933
SPONSORED