Inertia Escape Velocity HD
Description: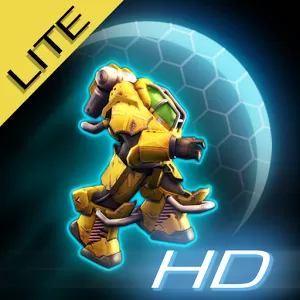 ★ Over 300,000 downloads of Inertia! ★
"Inertia: Escape Velocity is a shining example of what the little guy can accomplish in today's indie-friendly video game market." – Kotaku
"quite possibly the most elegant physics-defying platformer I've played in a long time." – 148Apps
"an entertaining outer space romp with plenty of replay value" – Modojo
"As the game goes on and the pace increases, the sheer kineticism of it all is bound to win you over." – Pocket Gamer
"The game boasts beautiful 3D graphics, smooth gameplay, and a comprehensive story line that will keep you coming back for more." – AndroidSpin
Gravity is Going Down! You are Hermes, a high-tech scavenger who can turn his personal gravity on and off at will. Utilize your power to control Inertia to leap, hover, bounce, float, and zoom through intriguing challenges and deadly obstacles in this beautiful 3D platform game.
➠➠➠➠➠➠➠➠➠➠➠➠➠➠➠➠➠➠➠➠➠➠➠➠➠➠➠➠➠➠➠➠➠
★ AWARD-WINNING GAMEPLAY ★
Inertia: Escape Velocity builds on the award-winning gameplay that won Best Non-Professional Game, Achievement in Gameplay, Technical Achievement, and Gamers' Choice Awards at DICE's Indie Game Challenge 2011.
★ DEFY PHYSICS! ★
Manipulate gravity at will to float through levels, bounce off of walls, and negotiate challenges such as attractors, repulsors, accelerators, launchers, force fields, and more.
★ PLAY FREE! ★
Play through 15 incredible levels to try out your powers amongst an amazing variety of challenges. You can buy the full version from within the game at any time.
★ HD ★
The special HD version features incredible high-resolution graphics that take full advantage of your tablet's display.
★ XPERIA PLAY Optimized ★
Owners of the XPERIA PLAY handset will enjoy Inertia with the lightning response of the control keypad.
★ EXPLORE ★
Investigate derelict space stations and junkyard planets to collect scrap and gain access to new levels.
★ HOURS OF GAMEPLAY ★
Over 35 levels of gravity-warping fun!
★ REPLAYABILITY ★
Win badges for speed runs and completion, collect scrap to unlock advanced levels.
★ SPACEBUCKS ★
A virtual currency you can use to buy stuff in the game. Yeah that's cool, but this is cooler: you can get Spacebucks for free! Plus, they are from SPACE.
★ OPENFEINT ★
Integrated with OpenFeint for a great social gaming experience, complete with Achievements and Leaderboards.
➠➠➠➠➠➠➠➠➠➠➠➠➠➠➠➠➠➠➠➠➠➠➠➠➠➠➠➠➠➠➠➠➠
SPONSORED

Screenshots:
What's New
This update includes:
√ XPERIA PLAY Optimized
√ Play Inertia in 8 different languages!
√ Other minor game improvements and fixes.
Happy 'nershin'!
This app has access to these permissions:
Network communication
full network access
view network connections
Phone calls
read phone status and identity
Storage
modify or delete the contents of your USB storage
System tools
test access to protected storage
Additional information:
Installs
100,000 – 500,000
Requires Android
2.2 and up
Content Rating
Low Maturity
SPONSORED